The US Robbed Itself of $87 Billion in 2014 By Not Hiring Formerly Incarcerated People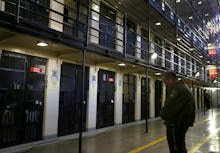 Dorsey Nunn shed tears of joy in his California office when President Barack Obama instructed federal employers to delay asking applicants about their criminal records in November. He shared that moment with other Americans who, like him, left a U.S. prison to find that bad policies made it easy for employers to discriminate against them because of their previous convictions.
Nunn is co-founder of All of Us or None, the reentry group that coined the phrase "ban the box," which refers to the question on an application that asks, "Have you ever been convicted by a court?" 
Read more: President Obama to Announce Executive Order Against Criminal Background Checks
"We're making progress," Nunn said in a phone interview from San Francisco. "But we're still only taking incremental steps, rather than seeing it as an entire community [of formerly incarcerated people] demanding their rights."
The country's mammoth criminal justice system disproportionately harms black people and is a drag on the economy, according to new analysis of the latest federal justice and labor statistics.
In 2014, prison-related policies also cost the U.S. economy as much as $87 billion in gross domestic product — the value of all goods produced and service provided by a nation in a given year — according to the Center for Economic and Policy Research in Washington, D.C. Authors of the center's report, released Thursday, reviewed Bureau of Justice Statistics data from 2014, when there were as many as 15.8 million people convicted of felonies who were of working age. Nearly 7 million of them were formerly incarcerated.
Policies allowing employers to unfairly weed out applicants who answer "yes" to the incarceration question amounted to a loss of about 1.9 million potentially qualified workers, according to the CEPR report. It reduced the overall employment rate by an entire percentage point. 
When it comes to race, the breakdown is even more grim. The CEPR report said black men who are formerly incarcerated suffered a 4.7 to 5.4 percentage point reduction in their employment rate in 2014. Latino men saw a reduction of as much as 1.6 percentage points, while the drop was up to 1.3 percentage points for white men. The jobless rate was as high as 6.7% in 2014, according to the Bureau of Labor Statistics.
"That's a drag on our economy that, in many cases, didn't have to be there," Alan Barber, co-author of the report and CEPR's director of domestic policy, said in a phone interview. "It's really a reflection of the 'tough on crime' laws and the war on drugs — policies that research has shown weren't very effective at all in their purpose."
Currently, 24 states and more than 100 municipalities have "ban the box" policy. Lawmakers decided that they gained nothing from imposing employment barriers for millions of formerly incarcerated people. New York City is among the latest to pass a measure in October. They stripped away criminal history questions from some public and private job applications. The negatives that some business owners feared over the policy change — loss of profits, a tainted pool of job candidates and a less safe work environment — haven't materialized.
"The damn sky didn't fall and people started working," Nunn said.
A history of mass incarceration: In 1980, when Jimmy Carter was president, there were 503,600 people incarcerated at the federal, state and local levels, according to the CEPR report. At the end of 2014, the number of people behind bars was 2.2 million people, with an additional 4.7 million people on parole or probation, the report states. On average, about 650,000 people are released from jail or prison each year, federal data shows.
African-Americans, about 13% of the U.S. population, are disproportionately represented in those numbers. At the state level, for example, blacks are incarcerated at a rate that is slightly more than five times the imprisonment rate for whites, according to the Sentencing Project, a D.C.-based advocacy project. The Latino incarceration rate is nearly one-and-a-half times the white rate.
In recognition of the problem, there has been a groundswell of criminal justice reform efforts at the local, state and federal levels — from anti-discrimination policies to changes in sentencing guidelines.
"We need to get past the idea of just being kind to the formerly incarcerated, and get to the point where we think of formerly incarcerated people as competent people," Nunn said.
The status quo is depriving families and communities of fully reintegrated citizens, as too many struggle to find economic footing in a job market where being prejudiced against former prisoners isn't expressly illegal, Nunn added.
Activists have said the action by the president and Congress hasn't lived up to the hype. Obama's "ban the box" action doesn't include private contractors hired by the government, and Congress' measure doesn't stipulate penalties in proven discrimination cases. The president's clemency program, nearly 350 individuals as of June, is just a drop in the bucket.
Congress is in a holding pattern on sentencing legislation that could benefit 5,000 mostly black prisoners who are serving life terms in prison because of racially discriminatory crack cocaine laws, according to the Sentencing Project. Some Republicans remained opposed to criminal justice reform — one senator recently stated that there was "an under-incarceration problem" in the U.S.
Glenn Martin, a formerly incarcerated New York activist who founded the criminal justice reform organization, JustLeadershipUSA, said recent federal movement on reform was "an exercise in mediocrity." He applauds the president's efforts, but questions the resolve of everyone involved.
"Most people argue that mass incarceration is the new version of slavery and Jim Crow," Martin said in a phone interview. "You have to help people to understand that it's not just about [the formerly incarcerated], it's all of us. The sum total of that bad policy will ultimately come home to roost."