New Gender Neutral Uniforms Will Finally Allow For Boys to Wear Skirts to School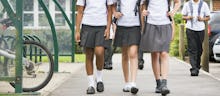 As if children and young adolescents didn't already have enough things — like bullying or just homework — to deal with in school, uniforms have remained an unnecessary aspect of educational systems that box students into two categories: female and male. 
In an effort to support students no matter the gender with which they choose to identify, The Guardian reports that 80 state schools across the U.K., 40 of which are elementary schools, have adopted gender-neutral uniform policies. 
"Children are expected to wear [a] uniform, but they can wear whatever part of that uniform they want," Paula Weaver, headteacher at Allens Croft Primary School in Birmingham, England, one of the first to adopt these dress codes, told the publication. "We believe that children have the right to express their own identity in a way that is most comfortable for them." 
This policy is part of a larger government-funded push for the support of students within the LGBTQ community.
"The money we have allocated is specifically to target homophobic and transphobic bullying in schools? to ensure no child has their lives blighted by bullying and can reach their full potential in school," a spokesperson for the Department for Education told Mashable.
The 80 schools are following the lead of Brighton College, a private day and boarding school in Brighton, England, that began to allow its students to choose between a blazer and trousers or a skirt and jacket back in January. 
This transition to more gender-neutral policies is not isolated to the U.K. Last month, after an Australian mother started a petition that would let her daughter wear pants as part of her school uniform, the school began to allow girls to do so. In February, another Australian school let its students "cross gender" its uniforms. A few months prior, Puerto Rico's department of education stated its students would be allowed to wear either pants or skirts depending on their gender identity.
Although gender lines have begun to blur in the fashion and beauty industry within the United States, the country lags behind the gender-neutral uniform curve. It might not be out of the ordinary to see a celebrity like Jaden Smith or a high-fashion male model in a skirt, but in the classroom, where uniforms are enforced, it isn't acceptable ... yet.  
"We still have more trouser-wearing across the board than boys wearing skirts. But that's about what's seen as acceptable in society, and you know what? We need to work on that, too," Weaver told The Guardian. 
Read more: