Ta Nehisi Coates Nails Why Orlando Shooting Should Be a Wake-Up Call for America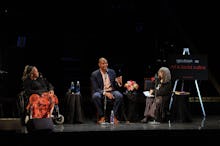 The Ambassador Theater in New York City's Broadway district was packed Wednesday evening for a discussion between literary giants Toni Morrison and Sonia Sanchez and ascending scribe Ta-Nehisi Coates. The three convened for the Stella Adler Studio of Acting's lecture series on art and social justice.
Sunday's tragedy in Orlando, Florida — a hate-fueled massacre at a popular gay nightclub that claimed the lives of 49 victims — loomed large over the discussion.
Read more: Pulse Nightclub Shooting Leaves At Least 50 Dead, Orlando Mayor Buddy Dyer Says
The renowned 81-year-old poet Sanchez moderated the talk. At one point, she asked Coates and Morrison to weigh in on the shooting in Orlando. The 40-year-old Coates, who authored the award-winning bestseller about race and police violence, "Between the World and Me," responded by relating his experience living in Europe, where guns are not easily accessible.
So where we are is, okay, we need an assault weapons ban. I have to tell you, just from spending some time abroad, we don't understand how far gone we are... Things that really are a means to... correct the problem begin to seem like radical steps, like an assault weapons ban... [It] would not be enough. It would not even be close to being enough.
The Orlando shooting marked the fourteenth time that President Barack Obama has addressed the nation about a domestic shooting, over the last seven years. Several of those shootings involved assault style weapons.
Coates went on the say his role as a journalist is to make solutions to complex issues, like gun violence and police brutality, seem less daunting. With Morrison and Sanchez, Coates also discussed the legacy of the late boxer Muhammad Ali and what first inspired each of them to begin writing.