Watch SpaceX Almost Nail Its 4th Landing in a Row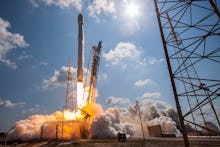 After landing three rockets in a row, Elon Musk's SpaceX had a mishap on the fourth attempt. 
Now Musk has tweeted a video of the June 15 landing attempt. 
It wasn't clear during the live broadcast whether or not the rocket had made it because the camera kept cutting in and out. Now we can see that the rocket touched down on the drone ship at sea a little too hard. The shaky landing ultimately made it tip over.
The video cuts out before we see any explosion. Hopefully SpaceX will release more videos from different angles soon.
The launch did successfully deliver two communications satellites into space before the botched landing. SpaceX had its first successful sea-based landing this year, so it still has a lot to learn. Musk is still optimistic:
Read more: