Oakland Teen Performs Beautiful Dance Routine at Friends' Funeral, Killed Hours Later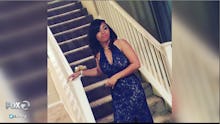 Sometimes the tragedy of gun violence defies logic. That was certainly the case in Oakland, California, where 16-year-old Reggina Jefferies was gunned down just hours after performing a beautiful dance routine at a funeral for two friends who'd drowned.
Jefferies' mother, Onika Wilson, shared the video with Bay Area local news reporter Paul Chambers after the teen was shot and killed this week. "I called my daughter at 5:25 and asked her if she was okay, and she said, 'Yes,'" Wilson said in an interview with KTVU, before offering a tearful plea for justice in the case. "I got a phone call that my daughter had been shot at 5:36."
Here's KTVU's segment with Wilson.
Gun violence in Oakland has been a deeply enmeshed problem for decades. The city has averaged 109 annual homicides since 1945, though those numbers have improved slightly in 2016, according to the San Francisco Chronicle. And while mass shootings like the ones in Orlando or Sandy Hook have prompted national discussion about the cause and effect of gun violence, experts say that in order to really tackle the problem, it's important to name the majority of its victims: young black people like Jeffries. 
"The nation's consciousness has been raised by the repeated acts of police brutality against blacks," the Brookings Institution wrote in its analysis of race and guns in 2015. "But the problem of public-space violence—seen in the extraordinary distress, trauma and pain many poor inner-city families experience following the killing of a family member or close relative — also deserves our special attention."
Read more: