Here's Why the Charleston Massacre Anniversary Is Also About the Orlando Shooting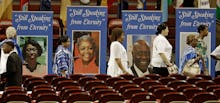 June 17 marks the anniversary of one of the worst acts of hate violence against African-Americans, in at least a generation. 
Just days before the community of Charleston, South Carolina, began to remember the night when a lone gunman killed nine black worshippers at the Mother Emanuel AME Church, hatred struck again in the LGBTQ community in Orlando, Florida.
The parallels between the acts of hatred run deep. Just like in Charleston, the shooter in Orlando entered a place of sanctuary and gunned down people when they were most unguarded and vulnerable. Just like in Charleston, the Orlando gunman had previously expressed hatred toward a historically marginalized minority group. And just like in Charleston, the bloodshed in Orlando drew international headlines and support from all corners of the world.
But for one pastor in Charleston, this isn't just a time for a mere rehashing of grief and fear.
"If all we do is sit around and sing songs and express our grief, this just becomes an empty exercise to assuage the guilt of other people," the Rev. Nelson Rivers III, pastor of Charity Missionary Baptist Church in North Charleston, South Carolina, said in a phone interview. "A year later, what we should be doing is announcing all the steps we've taken since the deaths."
There have been some changes in South Carolina. After a contentious debate by lawmakers, the state removed a Confederate battle flag from statehouse grounds on July 10. Formerly a symbol of Southern pride, the banner is widely seen as a symbol of racism and domestic terror. 
Yet despite several public calls to see the Charleston tragedy as evidence of a need for tougher gun control laws, national leaders still haven't taken action. The same seems to be true in the wake of Orlando. On Thursday, Democratic senators held a 15-hour filibuster until Republicans pledged to hold votes on measures that would expand federal background checks for gun buyers and prevent individuals on the U.S. terrorism watch list from buying guns, Reuters reported. But the measure is unlikely to pass in the GOP-controlled Senate.
Nelson is vice president of religious affairs and external relations for the National Action Network, a civil rights group founded by the Rev. Al Sharpton. He will be participating in a handful of commemorative events in Charleston on Friday. Nelson will also travel to Orlando this weekend to meet with the Latino, Muslim and LGBTQ communities, he said.
A year ago, Dylann Roof walked into Mother Emanuel while members met for bible study with their pastor, the Rev. Clementa Pinckney. Roof killed the pastor and eight other worshippers, before he was arrested and jailed. He harbored white supremacist ideals, as evidenced by his website that contained racist rants and photo tributes to Confederate symbols. Roof faces the death penalty on federal murder charges and hate crime offenses.
"I have to do it," Roof reportedly told the all-black church group before he opened fire. "You rape our women and you're taking over our country. And you have to go."
Nelson, who knew Pinckney and other Mother Emanuel victims personally, said previous mass shootings "should have compelled us to action by now" on gun control. Like many others, in 2012, Nelson said he thought news that a lone gunman killed 20 schoolchildren in Newtown, Connecticut, would spur legislative action.
"People can dismiss what happened to the Emanuel Nine because it didn't happen to their mother, father, brother, sister or cousin," Nelson said. "When the children, church members and the people in that [Orlando] club become your brothers and sisters, then you become someone who gets in the arena to do something about it."
Read more: