Forget Laces, These New Shoes Wrap Around Your Feet and Eliminate the Need for Socks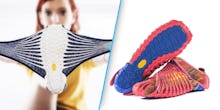 What's cooler than Marty McFly's self-lacing sneakers (or Nike's version it plans to release soon, but will probably cost an arm and a leg)? Italian shoe designer Vibram's stretch shoes that wrap and mold onto your feet, sans laces or socks. 
You simply have to slip your foot into an item from the Furoshiki collection and pull the nylon and rubber fabric tight to fit your foot. 
Furoshikis, which were inspired by the Japanese custom of packing items in cloth fabric, are meant to be worn during any and all activities, from skateboarding to yoga. Although Stephen Regenold, a writer at Gear Junkie who tried out the first model of the shoe back in September, believes they are more of an everyday shoe. 
"They are essentially stand-ins for sandals, with the same kind of minimal support and breezy feel, though with a more flexible, grippy sole," he wrote. 
So if you're looking for support when running or don't enjoy feeling like you are walking on the ground barefoot, you might want to stick with what you've already got.
What's different about Furoshiki's, when compared with traditional sneakers on the market, is that a pair of the wrapped shoes can easily be rolled up in a ball and thrown into your bag as opposed to having to lug a second pair of shoes around in your gym bag.
Vibram is known for its innovative products that attempt to redefine the traditional running sneaker. It's also the maker of FiveFingers — or gloves for your feet — that were popular (and interesting looking to say the least), a few years back. Besides everyday shoes, the brand also makes the wrapping product in boot form (think: wrapped UGGs).
Is this the holy grail shoe project of 2016? Maybe not, but it does give you the ability to have a sneaker custom-fit to your foot without having to dish out some hard-earned cash. 
Read more: