Blue Origin Just Launched and Landed Its Fourth Rocket — Watch It Here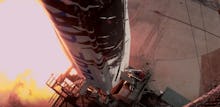 Amazon founder Jeff Bezos' rocket company, Blue Origin, launched and landed its fourth rocket over the weekend.
The New Shepard rocket is designed to someday carry paying customers to the edge of space. It launched from Texas on Sunday, carrying an empty crew capsule on top.
The rocket reached an altitude of 62.7 miles during the test flight. At that height over the Earth, future customers inside the space capsule will get to experience a few minutes of weightlessness and peer out the windows into the inky blackness of space.
The capsule then jettisoned and drifted back down to Earth suspended under parachutes, while the rocket flew back for a picture-perfect landing:
This time, one of the three parachutes above the space capsule did not deploy. The company was testing to see if the capsule could protect passengers if a crash landing were to happen, according to an emailed update from the company. The capsule still made it back to Earth in one piece.
This was the first time Blue Origin livestreamed one of its launches. In the past, the company has taken a more secretive approach to its test flights. 
What's next: Blue Origin will continue testing New Shepard and its space capsule over the next few months. Bezos has said test pilots could begin flying as soon as next year, and customers as soon as 2018.
No word on how much the tickets will cost yet.
You can watch the whole launch and landing below:
Read more: