Turns Out, Chanel Handbags Might Be a Better Investment Than the US Property Market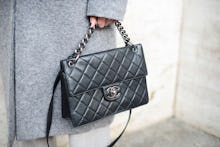 If you ever needed an excuse to pick up a Chanel bag and channel your inner (or outer) Carrie Bradshaw, this might be it — and turns out, it's pretty legit.
Baghunter, a website where people can buy, sell, consign and swap luxury handbags, recently studied the pricing of the medium classic Chanel Flap Bag starting with when it was first on sale in 1955. It found that the value has had a "rapid increase" since 2010 and has outperformed housing prices and S&P 500 in the last six years. 
If you're familiar with designer brands (even if you're not, really), you know that Chanel bags are not cheap. But, back in 1955, this specific model was only $220. By 2005, it was being sold for $1,650 and currently retails for $4,900. That's a $4,680 increase in a little over 60 years, with a $3,250 increase in the past eleven years alone. 
With online marketplaces, like Baghunter, The RealReal and Vestiaire Collective, more people are able to access luxury handbags, raising the demand for stock. The more demand, the higher the price rises, which means there will be a long-term payoff once you decide to sell the bag.
According to Baghunter, "The huge interest in purchasing handbags through these marketplaces has also seen the resale value of Chanel bags skyrocket due to the simplicity of the process for investors, collectors, and handbags aficionados to buy, sell, and consign their handbags via these means." 
While there are a multitude of reasons that the value and price have increased, from inflation to maintaining an exclusive brand name, it's easy to infer that the purse will only continue rise. 
Forget purchasing a house, at least according to this one study — a shiny new Chanel bag might be the better bet within the next few years. 
Read more: