Kylie Jenner's Lip Kits Get 2 New Blue Colors — Twitter Lays In With Smurf Blow Job Jokes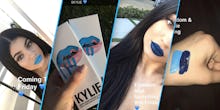 From black lipstick to wigs, Kylie Jenner has been given credit for trends that have been around long before Kris and Caitlyn Jenner decided to bequeath the world a second offspring.
It was no different on Monday night when the 18-year-old unveiled her two new July 4 Lip Kit shades on Snapchat: a creatively-named baby blue "Skylie" and a dark navy entitled "Freedom."
But in addition to the "she thinks she started it" tweets, many are saying that the new shade looks like Jenner got a little frisky with a Smurf. (Oh Twitter, never not missing a beat.)
A few have said that only Jenner can pull off these crazy shades.
Some are also pointing out that Jeffree Star, a makeup artist and vlogger who has previously had beef with Jenner, recently posted a throwback image to suggest that he started the trend. 
Users are also pointing out other brands that she supposedly copied: 
Others simply hate the matte shades:
There might be blue matte lipsticks already on the market — from brands like Jeffree Star Cosmetics and ColourPop — but there are also hundreds of reds, blacks, greens, etc. being sold as well. 
Did Jenner create the blue lip? No. But she is undeniably a trend reinforcer in that many want to be and look like her. Not a fan? Don't want to look like a Smurf or SpongeBob? Easy: Don't buy it. 
Plus, it'll likely be sold out by the time you get your credit card out anyway. 
Read more: