Brand Billionaire Casts Only Men 50 or Older With Beards for Its Latest Fashion Show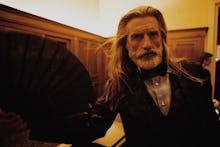 When you think of a high fashion male model, you probably don't imagine gray-haired bearded men that are 50 years old or older. But for Mr. Plutus, the alias for the secret designer behind Italian luxury menswear brand Billionaire, this was exactly who he wanted to represent the brand's new collection during Milan Men's Fashion Week Spring 2017 on Monday night. 
The presentation featured five rooms, each with its own scene and fully nude actors and actresses, in addition to the older models. 
One of the models, 60-year-old Philippe Dumas, recently made headlines for his rugged look. "Style is more important than beauty," Dumas told Today earlier this month. "You can have style at any age." 
"[Plutus] is ready to unveil a new era in menswear," a press release read. "Billionaire presents an extravagant, rich wardrobe for mature men who are unafraid of who they are and who they want to be... the Billionaire man doesn't want a boring suit. He's proud of what he's achieved and he wants to show it." 
Regardless of who a specific menswear brand is catering to, most cast younger models, many of which have similar builds. Thankfully, an industry that has begun to address diversity in body type and race, is beginning to factor in age.
In June 2015, Rebecca Valentine made waves when she launched Grey Model Agency, specializing in people over the age of 35. "It would be great for all brands used models who were representative of the market to whom they are pitching and for these brands to recognize that 'older' is not a description of type," Valentine said at the time. 
More recently, many praised Sports Illustrated in February for featuring 56-year-old model Nicola Griffin in the swimsuit issue. Weeks later, British Vogue "highlighted ageism in the fashion industry" with an ad campaign featuring a 100-year-old model. And Tuesday, H&M featured a 60-year-old model and stylist in an swimsuit editorial online. 
But, Billionaire is one of the first luxury brands to feature older models during a Fashion Week presentation. And look, these older men can rock a suit just as well as — if not better than — their younger competition.  
Read more: