This Makeup Artist's Optical Illusion Transformations Are Truly Mindblowing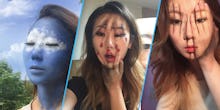 Just when you were getting over the terror that was induced by last week's Finding Dory makeup tutorial, we're here to cause a few more sleepless nights.
Meet Dain Yoon, a 22-year-old artist from South Korea with over 28,000 followers on Instagram. Using a combination of makeup and paint, Yoon creates seemingly-real optical illusions on her face and hands. 
She had always been interested in people and how many often judge someone based on looks or their "cover." 
"I have discovered that different people resonate different first impressions and they indeed change as I study them further," she explained in an interview. "I realized that what I see on the surface does not merely suffice every perspective about them." 
In order to show how people are multi-dimensional and more than just how they look from a quick glance, Yoon started to paint trippy, 3-D looks onto herself. 
"I overlapped my face and part of my body, so that they would look [like] one," she said. "It is the beauty of my art for the audiences to discover new 'perspectives' on my painting as they adopt closer looks."
In addition to blending her body parts with one another, Yoon also transforms herself into backdrops, creating some serious Alice in Wonderland vibes.
Read more: