'Big Brother' 18: Season Premiere, Show Schedule, Cast and Surprise Guest News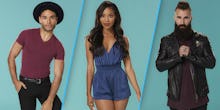 Get ready for some mismatched showmances, Julie Chen, game-changing twists and a whole new batch of eclectic houseguests because Big Brother is back starting Wednesday at 8 p.m. Eastern on CBS. 
The reality show, which originally premiered in July 2000, follows a group of people that are locked in a house and watched via high-definition cameras and microphones at all times. The upcoming 18th season is no different — each week someone will be voted off with the last person standing receiving a prize of $500,000. 
Here is exactly what you need to know prior to Wednesday's premiere of Big Brother, including the show's cast, sechedule and surprise guests. 
Meet the Big Brother 18 Cast
Victor Arroyo, 25
Arroyo is a gym manager from Slidell, LA, who's life motto is "get my money, develop my body, and get women." 
Natalie Negrotti, 26
Negrotti, an event coordinator living in Franklin Park, New Jersey, previously was an NFL cheerleader for the New York Jets and therefore "knows how to deal with large groups of women."
Corey Brooks, 25
Oh, Corey. Where to begin? The baseball coach from Dallas, Texas, was recently called out for using homophobic slurs on his Twitter in 2011. His motto is "life is like a box of chocolates. You never know what you're gonna get." So, there's that. 
Tiffany Rousso, 32
Does Rousso look familiar? That's because she is season 17 contestant Vanessa Rousso's sister. Here's to hoping the high school teacher living in Palm Beach Gardens, Florida does a bit less crying than her sister did.  
Michelle Meyer, 23
The nutritionist from Washington Township, MI, says she'd be in a showmance as long as it "helps in the game."
Paulie Calafiore, 27
Yes, you guessed it, another past contestant's sibling. Calafiore, season 17 contestant Cody's brother, is a DJ who loves martial arts. 
Glenn Garcia, 50
Garcia is a dog groomer and former police detective from the Bronx. Yes, you read that right.
Bridgette Dunning, 24
Dunning, a traveling nurse residing in Fresno, CA, wants to bring an epilator into the house because as she said, "this girl can get pretty hairy."
Paul Abrahamian, 23
Abrahamian is a bearded clothing designer from Tarzana, CA, who enjoys jamming with his guitar. 
Jozea Flores, 25
Flores, a makeup artist living in Los Angeles, describes himself as "funny, outgoing, creative strategist, and a visual genius."
Zakiyah Everette, 24
The preschool teacher from Charlotte, NC will miss catching up on "celebrity drama" when she's in the house. 
Bronte D'Acquisto, 26
D'Acquisto, a student living in Denver, CO, loves to solve math problems.  
Big Brother Schedule and Dates to know
There will be new episodes every Wednesday and Sunday at 8 pm and Thursday at 9 pm. Those with a CBS All Access subscription can watch the live feed of the contestants beginning on Thursday at 10 PM at CBS.com. A weekly web series hosted by past season 11 and 13 contestant Jeff Schroeder will also air on CBS All Access every Friday beginning July 1. 
Possible surprises
After only 12 houseguests were revealed instead of the usual 16, fans began speculating that there might be four past houseguests or "mystery contestants" joining the new season. 
There is also no "Battle of the Block" Head of Household twist this season as there were the past two. But executive producers confirmed to The Hollywood Reporter that there are multiple twists and surprises that will be happening in the summer vacation-themed house this season, with some being revealed tonight. 
A few of the show's previous twists included flip-flopping twins (Season 17), America's player (season 8) and secret partners (season 6). In other words, if this season is anything like the previous 17, viewers can "expect the unexpected," as Julie Chen has so famously said. 
Read more: