'Big Brother 18' Premiere: The Internet Roasts the Hell Out of Fat-Shaming Contestant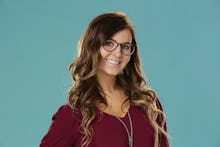 Note to all future Big Brother houseguests: You might not want to piss off viewers in your introduction before the show has even begun in earnest.  
Michelle Meyer, a 23-year-old nutritionist from Washington Township, Michigan, raised eyebrows during Wednesday night's premiere for some comments she dropped during her "meet the cast" video. It all started when she stated that her house key (the way the houseguests find out they will be on the show) was in a "bag of carbohydrates." 
She then shamed a family member for putting too much mayonnaise on their sandwich before stating, "I don't like people that think that they don't have a weight problem."
Lastly, she voiced some "facts" that she had up her sleeve. "Obesity is a huge problem," she said, adding, "Two thirds of Americans are overweight, and that blows my mind."  
And, well, people on Twitter were ready for her to be evicted even before the first Head of Household competition is over. 
To recap: Meyer wants people to admit they are fat. Some other tidbits she divulged before all the big twists were revealed? She's afraid of beards, being abducted, fish and North Korea. 
But, wait. It doesn't stop there. Twitter and Reddit users have dug up what they believe to be Meyer's Reddit account (she claims going on the website is one of her favorite activities) and the results aren't pretty. 
Though there's no definitive proof that this Reddit account belongs to Meyer, this user — michelleoelle — has been participating in subreddits devoted to Big Brother for months and claimed to have taken courses in nutrition. The user also comments in a subreddit called FatPeopleStories.
The Reddit user voiced disdain over a subreddit called FatPeopleHate being shut down because of the "fat movement" and wrote comments like, "I think there are just many fat fucks here that would like to blame hormones and genetics." When asked "What's something people brag about but really shouldn't?" the user responded, "Having boobs when you're fat."
And Meyer isn't the only houseguest stirring up controversy before the show's first episode was even over. Corey Brooks, a 25-year-old baseball coach, was recently called out for using homophobic slurs on his Twitter in 2011. 
It's safe to say that Meyer and Brooks might be the contestants to watch this season — that is if they make it past the first eviction ceremony. 
This story has been updated.
Read more: