Ivanka Trump Is Being Sued by a Luxury Shoe Brand for Allegedly Copying Its Design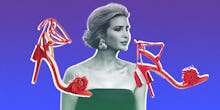 Donald Trump isn't the only member of his family facing lawsuits. 
Back in March, Italian-based shoe brand Aquazzura called out Trump's eldest daughter, Ivanka, for "blatantly" stealing its "copyright designs."  
"You should know better," the brand captioned a side-by-side of Trump's $145 'Hettie' sandal next to its $785 'Wild Things' version. "Shame on you @ivankatrump! Imitation is NOT the most sincere form of flattery."
Trump herself didn't respond to the initial accusation at the tim. But according to The Fashion Law, on Tuesday Aquazzura officially filed a trade dress infringement suit against her and her licensee Marc Fischer for "copying nearly every detail of [its] well-known and coveted shoe."
Details include: "the overall shape of the shoe, including the angle and slope of the sole of the shoe, the stiletto heel combined with an open toe, the distinctive fringed vamp (the band covering the toe) and the ankle-wrap closure made of tasseled string."
The lawsuit also claims that this isn't the first time that Trump had "copied" Aquazurra's designs. 
In addition to the similarity of the heels, Aquazzura believes that Trump is misleading customers to believe that both brand's shoes are "one and the same," according to The Fashion Law. The brand has issued claims of unfair competition and is seeking damages for "all gains, profits, property and advantages derived by Defendants from Defendants' unlawful conduct." 
"This is a baseless lawsuit aimed at generating publicity," Matthew Burris, CFO of Marc Fisher, said in a statement to Mic. "The shoe in question is representative of a trending fashion style, is not subject to intellectual property law protection and there are similar styles made by several major brands. The lawsuit is without merit and we will vigorously defend ourselves against the claim." 
And he's not completely wrong. Although the shoes are very similar, many other brands have also "copied" or created similar pairs. A source close to the Ivanka Trump collection directed us to Steve Madden, ASOS and Banana Republic, all of which are selling products just like Aquazzura's. 
Aquazzura is demanding a trial by jury, but it's unclear whether the brand will take action against the other companies as well (Mic reached out for further information). 
"As a young designer, you become well known for a silhouette," Edgardo Osorio, the founder of Aquazzura, told Business of Fashion in March. "When they start copying my classic styles, it's a problem."
Read more: