'Big Brother' 18: Returning Players, Twists, Teams and What to Know Before Episode 2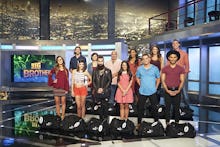 Big Brother 18 premiered last night on CBS, and as predicted, the two-hour-long episode was chock-full of controversy, twists and surprise guests. If you missed the first episode, here is all you need to know about the four houseguests that returned from previous seasons, the three competitions and the "alliances" that have so-far formed. 
The returning guests
After only 12 houseguests were revealed earlier in June, instead of the usual 16, fans began speculating that there might be four past houseguests joining the newbies. The Big Brother fandom was right. 
A few minutes after the 12 contestants entered the summer vacation-themed house, Frank Eudy (Season 14), Nicole Franzel (Season 16) and James Huling and Da'Vonne Rogers from Season 17 jumped out of luggage cases sitting in the living room. 
For all the new fans out there, or those in need of a reminder, these are the four contestants getting a second chance within the Big Brother house. 
Frank Eudy, 32
Eudy, a medical sales rep living in Charlotte, NC, competed on season 14. He's best known for his alliance with legendary houseguest Mike Boogie and showmance with Ashley Iocco. 
Nicole Franzel, 23
Franzel is an ER Nurse from Ulby, Michigan, who was on Big Brother 16. Another fan favorite, she is well-known for her girl-next-door personality and relationship with fellow contestant Hayden Voss (she announced on last night's premiere that they are now dunzo.) 
Da'Vonne Rogers, 28
There's not much to say about Rogers, a poker dealer living in Lancaster, CA, because she was eliminated fairly early during season 17. But, it is important to note that she discovered the twin twist before before anyone else last season and likely will be just as observant. 
James Huling, 32
If there's someone to be excited about this season, it's Huling, a staff recruiter residing in Wichita Falls, TX. He was hard not to love on Season 17 (hence why he won America's Favorite Houseguest), especially with all of his sneaky pranks he pulled on fellow contestants. 
Teams Twist
In addition to the four returning houseguests, host Julie Chen announced that the contestants would be competing in teams. (Yawn.) 
Warning: These team names are terrible. 
Team Freakazoids
From left to right: Glenn Garcia, Corey Brooks, Nicole Franzel, Tiffany Rousso
Team Big Sister 
From left to right: Jozea Flores, Zakiyah Everette, Paul Abrahamian, Da'Vonne Rogers
Team Unicorn
From left to right: Bronte D'Acquisto, Victor Arroyo, Natalie Negrotti, James Huling
Category 4
From left to right: Bridgette Dunning, Paulie Calafiore, Michelle Meyer, Frank Eudy
What to know before episode 2 
In the first competition of the season, members of each team had to hang onto a rocket without falling off. Team Unicorn won, receiving immunity for the next two evictions.
In the second competition, where the three losing teams had to build and suspend a castle, Category 4 took home the win, and therefore one week's safety in the upcoming eviction.
In the last competition of the premiere, the remaining two teams had to build a sandcastle puzzle. Team Big Sister won, meaning someone from Team Freakazoids will be evicted. 
Tune in tonight at 9 p.m. to find out who will become the first Head of Household and which members of Team Freakazoids will end up on the block. 
Read more: