This Is the Transgender Bathroom Ad Campaign America's Been Waiting For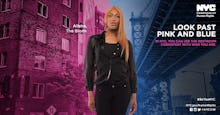 New York City is setting itself apart on the deeply contentious — and very silly — issue of which bathrooms transgender people should be allowed to use.
In June, the city's Commission on Human Rights used a relatively paltry $265,000 to launch a pioneering ad campaign called #BeYouNYC, which encourages residents to use bathrooms that correspond to their gender identity. 
The ads have begun to appear on television:
And on subways, which carry an average weekly ridership of 5.7 million:
The ads appear in English:
As well as en Español:
There's even a helpful factsheet that dispels commonly held myths about the city's bathroom policies:
The whole thing brings home the message that transgender people shouldn't be criminalized for being human. "We are ordinary people, living ordinary lives," one ad says.
Take that, North Carolina Governor Pat McCrory. 
Read more: