Jaden Smith Took Off His Shirt — and the Thirst Got Very Real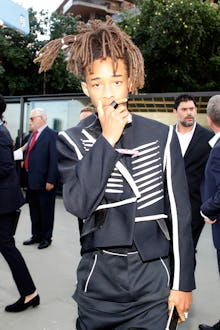 To borrow a quote from Twitter user @LePussyRiot, Jaden Smith is a thirst trap!
On Thursday, the 17-year-old dented the internet by posting a shirtless photo to Instagram with the caption, "Baby Take Off Your Shirt, Ugh Okay Fine," which was likely a typical conversation between Smith and his girlfriend, model Sarah Snyder.  
Users in the comment section found themselves in need of some water bottles because the thirst got very, very real. 
Some just professed their feelings with a simple "I love you" and "BABY YOU'RE SO HOT." Others felt personally victimized and speechless saying "killing us bro," "UMMMMMM IDK WHAT TO SAY," "I'm choking," and "I can't breathe."
A lot have claimed Smith as their own with comments, "Damnn that's my husband" and "MY BABYYY," or the unusual "daddy" with the "splashing sweat" emoji.  
There's also a "my god," a "jesus" and a "Lorrrrrd." (Who knew Smith had so many religious followers?)
And you cannot overlook the thirstiest of the thirsty comments, aka the "FUCK MEs," "Delicious yummys," and the "Take it off take it offs." 
This is isn't the first time that the internet has discovered how fly Will and Jada Pinkett Smith's youngest son is:
And judging by the recent photos of him on the beach, along with all of his other images he's posted to Instagram in between the unnecessary blank, white pics, he's not shy about quenching the thirst. 
Read more: