Who Went Home on 'Big Brother?' First Elimination and Who's the New Head of House Revealed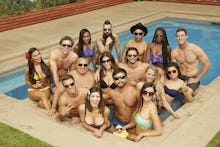 When it comes to Big Brother, one things for sure: nothing ever goes as planned. And it's not just because of the assortment of personalities locked under the same roof, the producers just love to throw game changing surprises at the houseguests. 
During the first part of a two-night premiere on Wednesday (the second part aired Thursday), three twists were announced. The first was that four previous contestants were coming back and entering the house for a second chance at the game. The second and more important (but snooze-worthy) twist was that the houseguests would be competing in teams of four. 
The third and final twist was that one person would be evicted by the end of the second episode as opposed to last season, when someone wasn't eliminated until the fifth episode. 
Who was sent home
With Team Unicorn, Team Big Sister and Category 4 all winning competitions, the members of Team Freakazoids (Glenn Garcia, Corey Brooks, Nicole Franzel and Tiffany Rousso) were left to compete with one another, with the last person standing being immediately kicked off the show. 
Glenn, the 50-year-old dog groomer, in an island-themed competition where the four contestants had to climb a palm tree and grab some coconuts, was the last to grab his flag and was sent packing. 
It's important to acknowledge that if it came to a vote, it's likely that Glenn would not have been given the boot as Big Brother history shows that the "weaker" (read: older) contestants are often kept in the competition, while the big threats are sent home early. 
The only perk of being the losing team was that the remaining contestants that weren't eliminated would then decide which one of them would become the first Head of Household (aka the first to get a large-ass target on their back.) 
Head of Household
It only took one previous run on the show, but Nicole is finally playing Big Brother. She made it seem that she didn't want to be the first HOH, even though she very much so did, and Tiffany and Corey fell for her sneakiness, mainly because they didn't want the role themselves. 
Enter some elated veterans and some whiny newbies (looking at you beardman...er...Paul.)
Nominations
Because Jozea couldn't keep his "I want the Vets out" mouth shut, and his so called BFF Victor is dumber than he is and revealed his entire game plan to Nicole, she nominated Jozea alongside Cody's brother who's name is irrelevant at the moment. Oh yeah, Cody's brother is also the pawn. That never ends well.
A new competition will be unveiled on Sunday's episode at 8 p.m. Eastern.
Read more: