Bleacher Report and KITH Launch One-Of-A-Kind Interactive Pop-Up Shop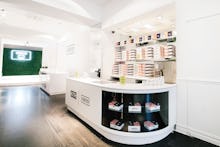 Whether you're a sports fan or not, Bleacher Report has teamed up with streetwear brand KITH to create a must-visit pop-up shop "#BR99" in Lower Manhattan. 
Running home from school to turn the television to SportsCenter was once the only way to consume sports coverage. Now, the focus has shifted to apps, social media and websites — something Bleacher Report realized and is taking advantage of. 
In order to find a way to engage the "next generation of sports fans," they teamed up with KITH to create a physical space and build a community where consumers can put a face to both brands. 
This is more than just your average store. Yes, anyone can walk in between now and June 30 from noon to 8 p.m. and purchase Bleacher Report x KITH clothing. But, people can also go to the second floor, where they are able to sit and hang out, charge their phone, play foosball and even video games. At night, the same space becomes a place for influencer chats and concerts. 
It's not everyday that a media site collaborates with a well-known fashion brand which seems to be why so many were intrigued and lined up in droves on its launch day Wednesday. 
"They want to be associated with B/R and Kith," Bennet Spector, the vice president of brand strategy at Bleacher Report, said on a tour of the shop. "They want to be seen, not see it. They want to be seen in this space." 
For more check out the video below:
Read more: