A Restaurant In China Serves a Boob-Shaped Custard Bun That Lactates on Command. Watch.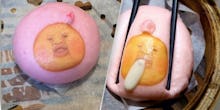 The year 2016 has showed the world that pretty much anything is possible: The U.K. actually voted in favor of leaving the European Union, the possibility of a Donald Trump presidency is very real and restaurants can make dim sum dishes that make you ask, "Is it bun? Is it the nipple of a lactating breast? Is it a vomiting baby?" 
Enter the Chinese dish from Hong Kong dim sum restaurant Dim Sum Icon that looks like all three: 
Press play if you dare.
The dish — which is actually just a custard bun — is shaped like a perky breast. It has a strange baby's face that appears to vomit what Instagrammer Daniel's Food Diary wrote is "milk custard" when a hole is poked into the bun. 
In reality, the dish is not part of the female anatomy, it's just a "vomiting Kobitos bun." Kobitos is a character from a popular series of Japanese books. This bun in particular appears to be modeled off of the "Hiding Peach Bottom Kobitos." Still, there is no denying its resemblance to a lactating breast. 
This is not the only err, creative, bun Dim Sum Icon serves. It's also home to a bun that looks like it has the runs. When customers poke a hole on the backside of the Gudetama chocolate bun (Gudetama is a popular Sanrio character), the chocolate filling oozes out in a realistic manner that might make your stomach a bit queasy. 
Makes the over-the-top culinary abomination that is Burger King's Mac n' Cheetos look G-rated, no? 
Read more: