Here's Why the SCOTUS Vacancy Should Be A Priority for The Movement for Black Lives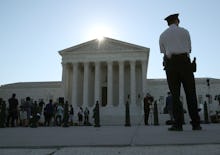 This week, the Supreme Court issued two decisions that will both advance and roll back legal protections for people of color. At the same time the Court upheld the constitutionality of race-conscious admissions policies, it struck down the Obama administration's executive action on immigration and condoned illegal searches and seizures.
The rulings bring to mind the influence of late Supreme Court Justice Antonin Scalia, whose vacancy on the court has remained unfilled since February 2016. Advocates of affirmative action, for example, might be rallying against the SCOTUS because Scalia would have decided against a race-based admissions policy, Obama's immigration plan, and in favor of a ruling that can increase illegal searches and seizures. Scalia's absence highlights the necessity for an incoming progressive justice who will have the power to transform the nation's highest court.
The movement for black lives has thus far focused most of energies on rampant police abuse and prosecutors who have failed to hold accountable law enforcement officers who have killed black people. The movement has also helped to shift the national conversation on electoral politics. In addition, the specific needs and vulnerabilities of black girls and women, as well as LGBT people, have been uplifted. But the recent Supreme Court decisions show the need for a more direct, in-your-face engagement with policy. The vacancy, and the person who will fill it, deserve as much focus as law enforcement and prosecutor's offices.
But first, there is good reason to recognize the wins. In a 4-3 vote on Thursday, the Supreme Court ruled in favor of a race-based admissions program at the University of Texas at Austin. The New York Times characterized the case a "major victory" for advocates of affirmative action. For many, this ruling validates the need for race-conscious admissions policies that seek to address centuries of institutionalized racism.
The University of Texas ruling is commendable, but it is equally important to acknowledge the same black or Latinx college graduate who benefits from affirmative action can still be subjected to discriminatory policing practices and prejudiced immigration laws the other rulings uphold.
On Monday, the Justices ruled in favor of law enforcement in Utah v. Strieff. The decision allows law enforcement to circumvent the exclusionary rule — a Fourth Amendment legal principle that protects citizens from illegal searches and seizures. Historically, evidence collected from unlawful searches and seizures is inadmissible in court, which acts as a deterrent against police misconduct. The Court walked back this standard Monday, allowing evidence to be admitted in cases where the person who was illegally searched has an outstanding warrant.
As Justice Sonia Sotomayor noted in a blistering dissent that cited the works of black thinkers and freedom fighters like W.E.B. Du Bois, James Baldwin, Lani Guinier, Michelle Alexander and Ta-Nehisi Coates, people of color are disproportionately the victims of illegal police searches. Sotomayor's dissent evokes the same issues organizers in the movement for black lives have railed against, which is why these cases should continue to be of interest to the movement.
Sotomayor's dissent evokes the same issues organizers in the movement for black lives have railed against, which is why these cases should continue to be of interest to the movement.
"This case tells everyone, white and black, guilty and innocent, that an officer can verify your legal status at any time," Sotomayor argued. "It says that your body is subject to invasion while courts excuse the violation of your rights. It implies that you are not a citizen of a democracy but the subject of a carceral state, just waiting to be cataloged. We must not pretend that the countless people who are routinely targeted by police are 'isolated.'"
For example, in New York City, lawyers, civil rights groups and activists criticized and fought against the police department's use of stop, question and frisk before a federal court ruled that the practice violated the constitutional rights of people of color. The contested program allowed police officers to stop and question people in specific neighborhoods and if officers suspected they carried some form of contraband, they would search people even if they didn't have probable cause. Police disproportionately stopped and frisked people of color — the majority of whom were innocent, according to data from the New York Civil Liberties Union. It took a groundswell of community voices to bring attention to the problem. This week's SCOTUS ruling reverses much of the progress made in places like New York City.
"This ruling breathes new life into racially biased stop-and-frisk practices that have been widely condemned and discredited by civil libertarians, community activists and the courts, too," Keeanga Yamahtta-Taylor, assistant professor of African-American studies at Princeton University and author of From #BlackLivesMatter to Black Liberation, said.
But an increase in potential forms of over policing is only one of the possible consequences of the SCOTUS rulings. The Supreme Court's 4-4 split decision in United States v. Texas upheld a lower court ruling to block President Obama's immigration program — the Deferred Action for Parents of Americans and Lawful Permanent Residents (DAPA) and and Deferred Action for Childhood Arrivals (DACA) . The administration has halted its efforts to advance the program.
The program would have protected an estimated 5 million of the 11 million undocumented immigrants currently living in the country by presenting some families with exemptions from deportation. A majority of the undocumented are people of color. At least 47% of the 11 million are from Mexico, which is why just immigration policies have also been a concern centered by the movement for black lives.
"Black immigrants from Africa, the Caribbean and Latin America experience racial discrimination as they navigate U.S. society and systems," the Black Alliance for Just Immigration (BAJI), a non-profit directed by Opal Tometti, a co-founder of #BlackLivesMatter, states on its website. "They also face a more difficult immigration process and are racially profiled, leading to disproportionate rates of immigration detention and deportation."
If the Supreme Court continues to uphold laws that perpetuate state-sanctioned violence, then the movement demands will not be actualized. Black people will continue to be killed by police with impunity. Stop, question and frisk will still be used as a justifiable means of curbing quality of life crimes in communities of color. Undocumented people will still be at risk of surveillance and maltreatment by law enforcement. And that is why the movement should be concerned about the recent rulings, their impacts and the potential to shape upcoming SCOTUS nomination proceedings, which have been held up by Republicans
.