Meet the Openly Gay American Soldier Who Doubles as a Fashion Designer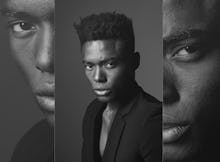 Imagine the struggle of being a fashion designer and maintaining an international brand miles away from most fashion capitals of the world. Now, add in an active role in the military and you have a sneak peek into what Julian Woodhouse's days look like. 
Woodhouse, 26, is an openly gay man and executive officer in the U.S. military, residing in South Korea with his husband. On July 11, he will be will be showing his fourth collection under his brand's name "Wood House" at New York Men's Day as a part of New York Fashion Week: Men's. 
"If I had a camera on my busiest days, it'd be hilarious," he said in an interview conducted during a rare break in his day. "I'll come to work in my uniform, have a casting at 12, meeting with my factory at 3, be on the phone with New York... It's kind of hectic, but it makes me feel like I am doing something." 
Woodhouse's love of fashion started at 12 years old, all thanks to a pair of Gucci shoes. It wasn't long before he began looking up designers, memorizing collections and obsessing over the latest trends. 
"I had looked at fashion as just clothing on your back, just clothes that you wore," he said. "I had no idea there was an entire industry." He started modeling, working as a stylist, sketching, drawing and dreaming up his own collection. But even so, this was just that — a dream and nothing more. 
Woodhouse's journey from soldier to stylist/model to designer wasn't an easy one. "I grew up in the military, I was an Army brat," he said. "I thought [joining] was going to be something I automatically did."  
Besides growing up in a military family, he believed that becoming a solider and joining the Reserve Officers' Training Corps program at the University of Minnesota was an easy way to hide his sexuality — which at the time, he wanted to change. 
"Joining the military kind of went hand in hand with coming out of the closet," Woodhouse said. "I didn't want to be gay at the time and I thought that fashion was connected to that in some way. I thought that by divorcing myself from fashion, I would also divorce myself from my sexuality." 
But his desire to create was too strong and this thought didn't last very long. "I wanted to find a way to do army and fashion at the same time," he said. 
When Woodhouse moved to Korea in 2013, he didn't know if he could fit into any fashion industry, let alone a foreign one. He worked as a stylist and model before meeting his first business partner who simply said, "let's do a brand." 
"I am inspired by the experience of men in a social way," Woodhouse said. "I have a vision for menswear and more so, I have a vision for what I wish I had more access to as a consumer. Whenever I go shopping, I will go to the men's section and just stare and then I end up going to women's section and buy something that can be androgynous and wear it like a guy."
While women have vast options depending on their body shapes, shoulder shapes, waistlines, menswear is often more prototypical because of the lesser demand. "I realized that men do not have such a multifaceted offering of clothing that they can consume," Woodhouse said. "My brand is based off of that... [it's for a] guy that is confident, sure of himself, wearing something that reflects how he feels inside. When he walks into a party he's feel like he's arrived. I've always wanted to feel that way when I was growing up." 
Remember, this was all while he had a full-time job within the military, and so, many of the pieces are uniform-inspired. 
"I think subconsciously definitely inspired by the military," Woodhouse said. "I like how the uniforms fit. I like the way that a gentlemen would look in a uniform. There's a heir of regalness, importance, confidence. I'm not necessarily inspired by the shapes, more by the affects it has and I've tied that to my collection." 
Woodhouse showed his first Wood House collection, one made up of dark, androgynous but still masculine pieces, during Seoul Fashion Week in March 2015. He debuted his third collection in New York City at NYFW: Men's on Feb. 2. 
"I began dressing myself in more color, which prompted me to start designing with more color," he said. "By my third collection, I had found a happy place within myself." He mixed the silhouettes, shapes and cuts from the first season with the colors he used for the second. 
Woodhouse hopes to someday open up a center where people can go and create without having to spend any money. "I didn't think that an Army guy who has my back story could accomplish this, especially executing it from another country," he said. 
As for what he would tell others? "You are the person that sets your mission. In the military, if you got to go do some military task, whether tactical or administrative, having it not happen is never an answer," Woodhouse said. "If you look at you end goal as that mission, and say 'It's not an option for this not to happen. I will be a fashion designer showing at NYFW, I just need to figure out how to do it.'"
I didn't think that an Army guy who has my back story could accomplish this, especially executing it from another country.
Within the next few years, Woodhouse has plans to move to either New York or Shanghai with his husband where he will continue to create. 
"I want to have a brand that actually has made some sort of change in the industry," he said. "I just want to have reached a point where I can inspire large groups of people. Not only in a way that I am changing menswear, that I'm cultivating some sort of dedication to creativity and pushing that forward." 
Read more: