Demi Lovato Reveals the Unfortunate Effect Beauty Pageants Had on Her Health Growing Up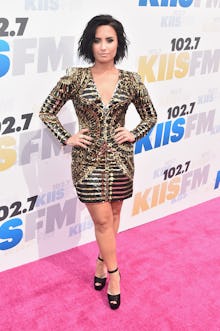 Demi Lovato was 18 years old when she first entered rehab, was diagnosed with bipolar disorder and treated for bulimia. At the time, she was also experimenting with drugs and self-harm. But what many Lovatics don't know is that the now-sober singer's issues first began much earlier, when she was just 7 years old and participating in beauty pageants. 
"I would look at those images and say to myself, 'Wait, this is not what I look like. I'm getting fat on the hips and on my butt,'" she told American Way about the skinny models she had taped to her bedroom walls in her adolescence.
But this wasn't where her body issues initially began. According to her, she first became aware of her looks when she was just 2 or 3 years old and would look down at her stomach and wonder if it would ever be flat, something that possibly stemmed from her mother Dianna Lee Hart's struggle with bulimia. 
"My body-image awareness started way before [the pageants], but I do attribute a little of my insecurities to being onstage and judged for my beauty." Lovato said. She added, "Being around somebody who was 80 pounds and had an active eating disorder ... it's hard not to grow up like that."
Lovato started binge eating, cutting her arms and purging. Being in the spotlight with roles on Camp Rock and Sonny With a Chance only added to her insecurities, as she soon began self-medicating by mixing OxyContin, cocaine and alcohol. 
"I lived fast and I was going to die young," she said. "I didn't think I would make it to 21."
Her first bout in rehab, when she was 18, was for bulimia and bipolar, not her drug or alcohol additions. Soon after, she entered a West Hollywood sober house. "Once I started eating again, the other issues got worse. It was like whack-a-mole." 
In a society chock-full of unrealistic and downright unattainable standards, Lovato — through her body-positive Instagram and Snapchat posts, lengthy interviews and her fight for mental health awareness — has become a regular source of inspiration for her fans, many of whom might have dealt or are currently dealing with similar issues.
"The more you talk about mental illness, the less of a taboo it becomes," Lovato said. "When I have meet-and-greets, I can't tell you the amount of times that girls will show me their arms covered in scars or cuts. They'll tell me, 'You helped me get through this. Because of you, I stopped self-harming,' or 'I got sober.' Hearing those things gave my life new meaning."
Read more: