In One Tweet, Justin Timberlake Tried to Whitewash Black Music on Its Biggest Night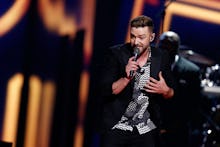 On a night when Jesse Williams proved to be among Hollywood's wokest, Justin Timberlake showed that he was sound asleep.
Timberlake was one of millions of viewers who was touched by Williams' speech at the BET Music Awards on black life in America.
He took his feelings to Twitter: 
Timberlake's critics say that he's made a career off of appropriating black art, so it's not surprising that they called him on it — also tossing for good measure in the infamous 2004 Super Bowl performance that hurt Janet Jackson's career and arguably propelled his to new heights:
That's when Timberlake essentially #AllLivesMattered black music on its biggest night. He wrote, "Oh, you sweet soul. The more you realize that we are the same, the more we can have a conservation." He ended it with what he hoped would be a mic drop: "Bye."
In an effort to foster understanding, he actually just amplified his whiteness, and Twitter let him have it:
Two hours and hundreds of responses later, Timberlake apologized — but still managed to miss the point entirely. First, he says he was misunderstood:
Because he's truly inspired by Jesse Williams's speech about black life in America, which he still thinks is about the human race:
And if you were offended by it, he's kind of sorry. But not really:
Because peak whiteness is turning a moment of black revelry and revolution into one of white guilt.
Bye, Justin.