America's Greatest Racial Sin? Electing Obama, Says Former Congressman Joe Walsh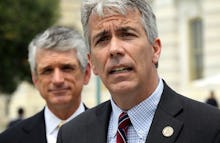 You could have a long debate trying to define the greatest act of racism in American history.
But for Republican Joe Walsh, a former U.S. congressman from Illinois, it's simple: The country's single greatest act of racism was electing black president Barack Obama. On Sunday, The now nationally syndicated radio host tweeted Sunday voters only cast ballots for Obama because he is black:
Slavery? No. Jim Crow? Nah. Japanese internment? Nope. Electing a black man who ran on a platform of uniting the country? Bingo!
In an interview with Mic, Walsh doubled down on his remarks. He said Obama's recent denunciation of Donald Trump's anti-Muslim rhetoric set him off. 
"It might have been a bit of hyperbole," Walsh told Mic on Monday. "But I'd say it's in the top 5" most racist things in American history.
"He got elected and ran for office because he was black," Walsh added. "With his resume — lack of a resume — there's no way he would have run for president if not for his skin color." 
This isn't a surprising stance from Walsh, a tea party favorite who once suggested the Obama administration patrol the border with alligators. Walsh aired similarly racist views about Obama in 2011, when he told the Washington Post that voters "were in love with him because he pushed that magical button: a black man who was articulate, liberal, the whole white guilt, all of that."
Sensible stuff, right?