Willow Smith's First Chanel Campaign Is Here — And It Was Well Worth the Wait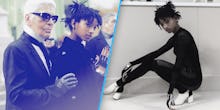 The internet collectively cheered when Willow Smith was announced as Chanel's latest brand ambassador back in March. After all, Smith didn't exactly look like the "typical" muse these high-fashion houses had chosen in the past. 
But here she was, a 15-year-old girl with dreads, and now the face of one of the most iconic fashion brands in the world, joining fellow stars Blake Lively, Kristen Stewart and Lily-Rose Depp. 
Smith herself thanked the brand at the time for "expanding the perceptions of 'beauty.'" And today, about three months since the first announcement was made, her first Chanel eyewear campaign has been revealed — dreads, septum ring and all. 
"A multifaceted artist, writer-composer-singer and actress, Willow Smith is the embodiment of her generation's spirit," the brand said in a statement. "Her youth and energy charmed Karl Lagerfeld who has invited her to join the family of CHANEL muses." 
It's not a secret that the fashion industry lacks diversity. This past New York Fashion Week, 68.1% of models walking in 120 shows were white, with only 31.9% being of color. 
But, as Mic's Rachel Lubitz pointed out last week, the growing number of celebrity kids-turned-models is actually making the industry whiter. Thankfully, we have the Smith kids, Willow and her brother Jaden, to stir up the pot and highlight more than one ideal of beauty. 
In January, Jaden posed in a skirt alongside women in Louis Vuitton's spring and summer collection campaign. A month later he did the same, this time with blue nail polish, for Vogue Korea. Willow, on the other hand, has posed for Marc Jacobs and recently voiced how she is just trying to "push the envelope" and "shift paradigms." 
And, well, that is exactly what Will and Jada Pinkett Smith's spawns are doing. 
Read more: