Dove Features Genderqueer Model Rain Dove In Latest #MyBeautyMySay Campaign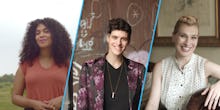 "Too fat," "too masculine" and "boyish and ugly" are just some of the things the models in Dove's new campaign video have been told they are. 
From encouraging you to love your curls to asking you to "speak beautifully" online, this beauty brand has had its fair share of body-positive ads, and their latest, #MyBeautyMySay, is no different. This time, Dove is hoping to empower women to rise above stereotypes and negative comments that have been thrown in their direction solely based on looks.
How? By asking a group of models — including genderqueer model Rain Dove, fashion blogger Jessica Torres and boxer Heather Hardy — to speak about how they each embrace their unique looks. 
Hardy was told she was going to "mess up that beautiful face." 
Torres often heard "only skinny girls can dress well." 
But these women aren't about to listen to the insults that have been thrown at them. "I'm not going to be defined by anyone's exceptions," Grace, a burlesque dancer, said. 
"I hope this campaign encourages all humans (not just ones who are societally deemed "boyish"/ "girlish" comparatively to their sex) to realize that beauty is more than the way your looks are perceived by others," Rain Dove said in an interview. 
While the beauty company previously has received flack for simply attempting to sell its products as opposed to actually helping women, Rain Dove emphasizes that this campaign is simply just a call to action. 
"When Dove approached me about working on this, they never once asked me to sell their products or promote their wares," she said. "They just wanted to share my story so that no matter if you are a Dove product lover or not — you can at least have these anecdotes which will help you love yourself. I really respect that and I'm proud to stand with the other eight amazing people featured in this film." 
So, whether or not you want to support Dove and purchase its products, this video provides a glimpse into what women hear (sometimes on a daily basis) and how they, and others, can learn to love the way they look. 
"Dove is encouraging people to set their own standards worldwide," Rain Dove said. "To be their own unique selves. To not allow others to shame them for accepting their own bodies and styles. Hopefully with campaigns like this we can be the generation(s) who make that the norm." 
Watch the full campaign video below:
Read more:
Correction: July 6, 2016