Disturbing Video Shows Man on a Manchester Tram Being Harassed, Told to "Get Deported"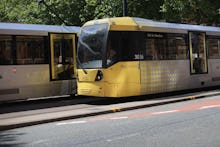 On Tuesday, a man on a tram in Manchester, England, was verbally harassed by two male passengers who demanded he get off the car because they believed him to be an immigrant.
A video shared by British station Channel 4 News shows the first passenger, wearing a hat, yelling, "Get deported. You're a muppet. Get off the tram now!" The woman who shot the video told the news station the man had asked the two passengers to "stop using bad language" before they went on the offensive.
When the man being targeted asks, "How old are you? How old are you?" the man in the hat snaps back, "Bro, I'll waste you, I'll waste anyone. Don't chat shit when you're not even from England, you little fucking immigrant." 
Later a second passenger joins in, filing through the other commuters on the crowded tram to approach the man and tell him to "jump off" the tram. The passenger in the hat then splashes what appears to be beer in the man's direction.
The tram then stops and the two men doling out the verbal attacks get off as other passengers defend the man, shouting after them, "Disgusting!" and, "To England, you are a disgrace!" 
The men continue from the street: "Immigrants get deported!" 
The incident comes on the heels of last week's Brexit vote, which some say was partly motivated by anxieties over an influx of immigrants over the last two decades. Just days after the historic decision, hate speech had already flooded the web. In a Facebook album entitled "Worrying Signs," some users documented xenophobic messages circulating both online and off. 
The album includes a screenshot of a tweet reading, "It's all fun and memes until you walk up Great Portland Street and hear people chanting, 'Make Britain white again!'"
Though these outwardly racist and hostile incidents may be likely to continue in light of the Brexit vote, British authorities made it clear they weren't going to tolerate it.
According to Channel 4, the Greater Manchester Police, who haven't yet identified either of the two men from the tram incident, said, "This is a disgusting display of abuse which frankly has no place in society."
Read more: