Blood Orange Drops 'Freetown Sound' Early — And It's a Clapback for Queer People of Color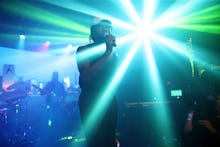 Dev Hynes could not wait to preach his gospel. Under the pseudonym Blood Orange, the R&B auteur dropped his highly anticipated new album Freetown Sound, Tuesday, four days before it was supposed to see the light of the day. It's a gospel we've been waiting for — whether we're queer or not, whether we're of color or not, whether we knew we needed it or not.
"My album is for everyone told they're not black enough, too black, too queer, not queer the right way, the under appreciated, it's a clapback," the artist wrote at the beginning of this month. 
That was before 49 people, most of them people of color, many of them Puerto Rican, were slaughtered in a queer sanctuary, before the threat of violence at Pride parades turned marchers away.
This album is Hynes saying to the world that we all learn how to live in our bodies, and those lessons are more dangerous for some of us than others.
Hynes, who tweeted in December of 2015, "I'm not gay, but I'm not straight," plants himself firmly in the tradition of Prince — of black artists who use their sexuality as a weapon against the status quo.
From the opening track, "By Ourselves," Freetown Sound's intentions are clear: This is feminism that's conscious of difference, from the perspective of an artist raised as a black man. There's Atlanta poet Ashlee Haze, on the intro, setting the tone for the album:
If you ask me why representation is important
The whole piece is steeped in activism and assembles choice moments from a history of resistance into collages and tableaus, not unlike his Instagram promotions. 
On "With Him," a preacher's voice sings, "black can make you move forward, and black can make you stumble around." There's Ta-Nehisi Coates on "Love Ya," talking about the makings of manhood, how to wear a baseball cap, how to wear pants. 
There's Venus Xtravaganza, a transgender performer who was immortalized in the 1990 documentary Paris is Burning, on "Desirée," talking about how the so-called "working girls" of the sex trade industry aren't all that different from suburban moms, who use their sexual prowess to convince their husbands to buy new washer and dryer sets. 
Top to bottom, the album challenges its listeners to feel something about how they were taught to be men and helps them cope with living in bodies constantly under siege. 
"You are special in your own way," Hynes sings on "But You," as if mimicking the age-old advice of LGBTQ reform, of the It-Gets-Betters of the world. It's a simple cliche, advice that seems almost too easy. Two two songs later, on "Hands Up," Hynes he confirms that exact suspicion when he belts out, "Don't shoot," a refrain attached to 18-year-old Mike Brown after he was shot by former Ferguson police officer Darren McFadden. 
It's an album that gives listeners both permission to cry and reason to dance. It's at once a bold declaration and a call to arms, because the blood of queer people of color matters, until it doesn't. Living with this reality requires that we never lose sight of the goal. This is Dev Hynes, reminding us of the sounds of freedom.
Read more: