If You're Transgender, There's No Such Thing As a Routine Doctor's Visit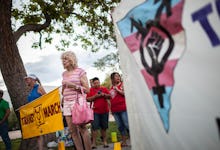 Kai Green was having trouble breathing. When he tried to exhale, he would erupt in a fit of coughing and felt like he had to vomit. For weeks, Green, who is transgender, avoided seeking helping for fear of having doctors reduce his illness to his gender identity.
But Green, a postdoctoral fellow at Northwestern University who lives in Chicago, finally relented on June 9, rushing to the emergency room at Evanston Hospital, 20 minutes outside of the city. There, the doctor took Green's medical chart and studied the list of medications he was taking.
"Why are you taking testosterone?" the doctor asked.
"I'm a trans man," Green responded.
"Have you had the surgery?"
"What surgery?" Green asked, confused about what his transgender identity might have to do with his inability to breathe. He explained that yes, he had a double mastectomy years ago, but his coughing and difficulty breathing were the problem now.
As if on cue, Green began to cough again.
"What are you here for?" the doctor asked.
"I'd like to be able to breathe!" Green responded.
The United States medical establishment has slowly made health care for transgender people more accessible — including transition-related care like hormone treatments and gender confirmation surgery. A third of Fortune 500 companies offer "transgender-inclusive health care coverage," according to a 2015 report from LGBT rights group the Human Rights Campaign. In May, the Health and Human Services announced a rule that bans many insurance companies from denying coverage to patients based on their gender identity.
But routine doctor's visits continue to prove troublesome for transgender patients, who regularly encounter health care professionals who are either wholly ignorant about transgender health or, like in Green's case, can't look past their gender identity. In 2010, the National Transgender Discrimination Survey Report on Health and Health Care found that that 28% of survey respondents reported being harassed about their gender identity in medical settings. The problem is so endemic that it has prompted transgender patients to recount their horror stories on Twitter using the hashtag #TransHealthFail, like talking about being misgendered and forced into medically unnecessary tests.
In one instance, Parker Molloy, a well-known writer for Upworthy, said she was asked to take a pregnancy test before getting a chest X-ray — despite the fact that she doesn't have a uterus.
"My wellness may or may not be related to me being a transgender person, so I need [doctors] to listen to the full story," Green said in a phone interview. "If you see me and all you think is 'trans,' you're going to miss a lot."
That's exactly what happened at Evanston Hospital, Green said. He said he felt rushed by staff, who were reluctant to offer him a nebulizer, then left him in a room alone for 45 minutes. He packed up his things and left, but not before leaving a note asking staff to send his chest X-rays to a doctor at Howard Brown Health Center, which caters to LGBTQ clients. "I deserve better," he wrote on Instagram. "I'm out. Headed home breathing a little bit easier now."
Evanston Hospital did not immediately respond to a request from Mic for comment. 
The problems that transgender people face in the United States' health system start with gaining access to it. Transgender Americans are four times more likely to live in poverty, according to a 2015 report from the Center for American Progress and Movement Advancement Project. In a system where health care is tied to employment, this means transgender people often lack access to health care. The 2010 National Transgender Discrimination Survey Report on Health and Health Care stated 19% of survey respondents reported not having any medical insurance.
But even when trans people do have reliable health insurance, there are no standard training practices that hospitals or medical professionals are required to take that teach them about transgender health. "Most physicians only learn well after they're out of school and encountering a trans patient for the first time," said Anand Kalra, health programs manager at the Transgender Law Center. "There's no across-the-board standard for quality of care."
Half of respondents surveyed by the National Center for Transgender Equality and National Gay and Lesbian Task Force reported having to teach their providers about transgender health care, according to the 2010 report. Green, in Chicago, said he was asked four years ago to conduct a seminar for doctors at the University of Southern California after he commented on his frustrating interactions with medical staff there.
It's no surprise that, according to the 2010 report, 28% of participants in the National Center for Transgender Equality and National Gay and Lesbian Task Force survey did what Green did and postponed medical care altogether.
Slowly, the medical establishment has begun to introduce such training. In 2014, the American Media Association released a list of what it called "medical education guidelines" aimed at providing quality care for transgender patients. The association identified 30 competencies doctors must master, including "sensitively and effectively" obtaining information about a patient's sexual behavior and identity. But those guidelines, critics counter, are too and dependent on a medical professional's willingness to learn.
Green eventually found out what was ailing him: He had bronchitis. But he said his experience in Evanston taught him a valuable lesson, one that he hopes more physicians will also learn. "There needs to be some recognition that doctors don't know everything," he said. "People need to be humble and recognize they don't have the answers and they need to learn."
Read more: