Author Mel Wells Calls Out Samsung for Automatically Airbrushing User's Selfies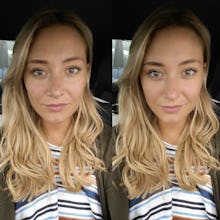 Did Mel Wells want to edit the selfie she took after getting a new phone last week? Maybe. But the U.K.-based author and blogger didn't have this choice. She claims her Samsung phone automatically airbrushed her selfie by making her skin flawless and removing her freckles. 
"Wow Samsung. When you get a brand new phone and go to take a selfie and realize that the default setting on the front camera is automatically on 'Beauty level 8,' which evidently means: seriously airbrushed face," she captioned a side-by-side image on Instagram, which is evidently edited. 
Some Samsung phones even have a beauty shooting mode.
Wells believes this is telling young girls, "Hi, we're Samsung and we think you look way better when we automatically airbrush your selfies for you, x8!!"
After some inquired why she couldn't just turn off the setting, Wells posted another image explaining: "I think it's one thing for us, the consumer, to decide to edit our photo after its been taken, but it's another thing for the manufacturer to do it for us before we've even taken the shot."
In response, Samsung issued the following statement to Mic: "At Samsung we offer a range of camera settings on our mobile phones for our customers to be able to choose to switch on or use. The beauty setting is one such setting that we know our customers love and has the option of being switched on or turned off completely, depending on personal preference."
In a social media-based society, when it's already nearly impossible to tell whether photos are adjusted or not — as people like plus-size model Iskra Lawrence and blogger Anna Victoria have recently pointed out — women do not need a cell phone provider dictating what beauty is. (They already have magazines and ad campaigns that do that.) 
Yes, a lot of people opt to edit their photos. But, as evidenced by the many examples of unedited photos that have gone viral, perfectly filtered photos aren't entirely the societal norm. People want to see what's real, not thousands of women that have mastered the art of angles. 
"The more we are told that we are supposed to look flawless, the more unhappy we will feel in our own skin," Wells wrote. "It is our imperfections that make us most beautiful." 
So, Samsung, Wells would like to keep her freckles.
Read more: