Is Quicken Loans or LinkedIn Racist? This Group Wants to Help You Find Out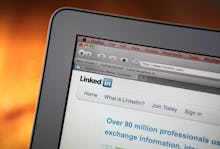 When we hastily sign "terms of service" agreements when joining the latest social platform or website, we're agreeing to rules that keep researchers from finding out if these services are racist or sexist. Hoping to change that, a group of university professors and journalists filed a lawsuit Wednesday arguing that the Computer Fraud and Abuse Act unconstitutionally criminalizes their investigations.
The group wants to comb through online algorithms used by home mortgage and job search websites and determine if they result in racial, gender and other outlawed forms of discrimination, according to the American Civil Liberties Union, which filed the lawsuit. In order to conduct the investigation, researchers typically have to violate a website's terms of service agreement, which is illegal under federal law.
Websites arbitrarily set service terms to prohibit things like creating multiple user accounts, lying about one's age or location or writing computer programs that collect publicly available search and ad data, the ACLU said in a statement. Breaking those terms allows researchers to test whether a mortgage website is only showing higher interest rate loan ads to people of color, or whether a job recruitment site is directing higher paying job listings to men over women.
"The work of our clients has a clear social benefit and is protected by the First Amendment," Esha Bhandari, an ACLU staff attorney, said in the statement. "This law perversely grants businesses that operate online the power to shut down investigations of their practices."
Companies can create algorithms with "big data" — the information collected on a person's web browsing and purchasing habits — and then steer users toward various products and services based on analysis of the data. Studies similar to the kind that the lawsuit plaintiffs aim to conduct have been encouraged offline by civil rights advocates and federal law enforcement agencies such as the U.S. Department of Justice's.
In 2011, the Justice Department announced a historic settlement with Bank of America, over predatory mortgage lending practices by its subsidiary Countrywide. Lending data helped officials determine that, from 2004 to 2008, Countrywide purposely overcharged 200,000 black and Latino borrowers for their mortgages, while charging similarly qualified white borrowers less for home loans.
Then-U.S. Attorney General Eric Holder said mortgages should be "based on applicants' creditworthiness, not on the color of their skin." Bank of America settled the Justice Department's federal lawsuit for an unprecedented $335 million.
Some of the plaintiffs in the ACLU lawsuit said they want to investigate whether real estate websites are using algorithms to display information to users based on their race or other factors.
"Being able to run socially beneficial studies like ours is at the heart of academic freedom," Christian Sandvig, an associate professor of information and communication studies at the University of Michigan, said in a statement. "We shouldn't have to fear prosecution just because we're doing our jobs."
Read more: