Oakland Police Sexually Exploited a Minor, Then Blamed Her for Officer's Suicide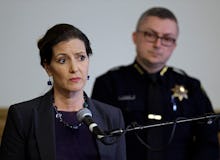 Just when you thought the torrid sex abuse scandal in the Oakland Police Department couldn't get any worse, it does.
Several rookie and senior officers in the department are under investigation for sexually exploiting a teenager whose mother worked for the department. The teen, who is now 18 and goes by the alias "Celeste Guap," recently told ABC News that she was first sexually exploited at 12. By 17, she was being preyed upon by Oakland officers, one of whom allegedly committed suicide after the department opened an investigation into his conduct. A new report from Darwin Bond Graham and Ali Winston, the East Bay Express journalists who broke the story, revealed damning text messages between Guap and another Oakland police officer who threatened to commit suicide if the victim opened up to the media. 
"I'm going to kill myself now," the officer, identified by the Express as Terryl Smith, told Guap. "You did it again ... I hope you feel good two for two. You're the devil."
The story details other abuses by the department, which include rookie officers breaking into a couple's home, mistaking it for a house party, then assaulting its owners. Winston and BondGraham pointed out on Twitter that accountability could be far, far away:
Predictably, the public is outraged: 
The Oakland police department did not respond to Mic's request for comment on the latest allegations.
Read more: