The Academy's Class of 2016 Is Its Most Diverse Ever, and It's About Damn Time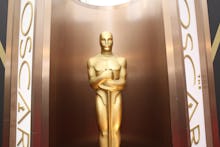 The academy won't be so white anymore.
After years of swelling controversy over the lack of representation of people of color, the Academy of Motion Picture Arts and Sciences announced that 683 people who work in film were invited to join the academy, and almost half of them are people of color, according to the Los Angeles Times. 
New members of the academy were stoked to hear the news that they were now part of Hollywood's most exclusive and influential club. They include actors Anthony Anderson, Chadwick Boseman, John Boyega, Idris Elba, America Ferrera, Michael B. Jordan, Tessa Thompson and many more. 
Here's how some of them reacted to the news:
Though, not everyone got the news personally from the academy:
For decades, the overwhelming whiteness of the academy was questioned, but not quite confronted. Then in 2015, April Reign, managing editor of Broadway Black, a website devoted to theater criticism, began a hashtag called #OscarsSoWhite to critique the lack of women and people of color who earn praise from the academy. 
Reign's observation is backed up by data: the University of Southern California released a study in 2015 showing the overwhelming majority of the top 100 grossing films released in 2014 were made by white men. 
The problem began attracting mainstream attention again in 2016. For the second straight year not a single actor of color was nominated for an Oscar — prompting some black actors to boycott the award ceremony altogether. Then in January, the academy announced that it would diversify its membership. 
And, finally, they did.
Read more: