Here's Why the 150th Anniversary of the Ku Klux Klan Should Frighten You in 2016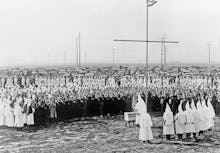 The Ku Klux Klan is a shell of its former self. Sure, some members still gather wearing white hoods and robes. They still burn Christian crosses and scream, "White power!"
As the KKK marks its 150th anniversary this year, according to the Associated Press, it's looking to reshape itself for a future. And it may have found that future in the rise of white nationalism and in the isolationist rhetoric of presumptive Republican presidential nominee Donald Trump.
"You know, we began 40 years ago saying we need to build a wall," Thomas Robb, an Arkansas-based Klan leader, said to the AP about Trump. Other Klan leaders told the news agency that Trump's ascendance has been a sign that white Americans are increasingly coming around to their their pro-white, anti-minority, anti-immigrant and anti-Semitic viewpoint.
The Southern Poverty Law Center's latest report on hate groups shows the number of Klan chapters increasing from 72 in 2014 to 190 in 2015. However, that growth accounts for the recent disappearance of major Klan chapters whose members may have joined white nationalist groups, the SPLC's Mark Potok wrote in the 2016 report.
In the last couple of years, the KKK's paw prints have been all over U.S. politics, incidents of hate violence and responses to the Black Lives Matter movement. Here are four reasons to be alarmed by a KKK or white nationalist U.S. resurgence:
The KKK's leaders now prefer to disrobe and present a public image that is less violent and more virulent, the AP reported.
Former Ku Klux Klan grand wizard David Duke entered in the news cycle twice in 2016, following questions that he had unofficially endorsed Trump's presidential campaign. His anti-semitic and anti-immigrant viewpoint is a staple on his radio show.
KKK fliers have appeared in suburban neighborhoods from the Deep South to the Northeast in recent months, according to the AP.
But their influence has been wide ranging, especially in debates about the Confederate battle flag in the South. The banner was idolized by Dylann Roof, the white man charged with the murder of the Charleston Nine in South Carolina in 2015.
The Confederate battle flag debate in South Carolina last summer spurred a large rally of neo-Nazis, white nationalists and KKK members.
During the rally, a black state trooper helped a white participant suffering from heat stroke into the shade of the capital building.
White nationalist and KKK events seem to have increased with frequency — and they are ending in violence.
On Sunday, neo-Nazis and white nationalists violently clashed with opponents outside of the Sacramento state capital building. Several people were hurt with injuries that included stab wounds.
Prosecutors in Orange County, California, announced Thursday that it was charging seven counter protesters with misdemeanor assault and battery for allegedly attacking KKK members during a "White Lives Matter" rally in Anaheim in February, the Los Angeles Times reported.
Even if the KKK doesn't grow anymore in size, hate group experts have cautioned against political rhetoric that might further inflame these groups or radicalize impressionable others.
Read more: