Here Are a Few Things People Need to Stop Congratulating Black People For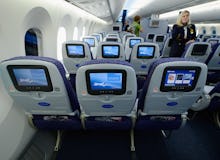 Danielle Brooks, breakout star of Netflix's Orange Is the New Black, flies first class. That apparently shocked one airport worker who glanced at the black actress' ticket and said, "Lucky you."
"I hate when gate agents look at me like I've never flown first class and say, 'You're in first class, lucky you!'" the actress wrote Thursday in a tweet that she has since deleted.
As of Monday, Brooks had not explained why she deleted the tweet or said whether she thought she was a victim of subtle racism. 
It's entirely possible the gate agent was not throwing shade or racial slights at Brooks. But her interpretation of the exchange is likely rooted in grief over a decades-old stereotype. It's a belief that upwardly mobile blacks are an exception to the rule of assumed racial and socioeconomic inferiority to whites. The prejudice is baseless — black people stunt on the regular.
As a demographic, they have endured generations of oppression — slavery, Jim Crow segregation and other institutionalized forms of discrimination — that manifests as disproportionate unemployment and median wealth and income levels that drastically trail white levels. Muttering "lucky you" is a stinging nod to that history and perpetuates stereotypes.
So, don't congratulate black people when...
...they buy luxury goods. They can afford them, too.
Many black people achieve great financial independence and success through traditional business acumen. Others leverage their talents in the arts, music and sports.
However, on average, black people have less disposable income for splurging on luxuries. Black median household income was $35,398 in 2014, while whites had a median income of $60,256, according to U.S. Census Bureau data. 
...they get the latest smartphones. They leverage technology in ways unparalleled by other groups.
Despite the black-white income gap, brand advertisers see black consumers as trendsetters and early adopters of tech-related innovations, a Nielsen and National Newspaper Publishers Association study found. Black teens are significantly more likely than whites or Latinos to use mobile devices to access the internet, according to a 2015 study by the Pew Research Center.
Black use of smartphone technology and social media websites such as Twitter and Facebook helped drive the national Black Lives Matter movement that challenged police brutality and the killing of black people in recent years.
...they attend Ivy League schools. Many are admitted to them every year.
Even after the Supreme Court ruled that "separate but equal" public schooling was unconstitutional in the 1950s, it has taken continued effort by civil rights activists to narrow the achievement gap and ensure black children received a quality education. A recent in-depth analysis of the 2013 National Assessment for Educational Progress data shows the achievement gap has narrowed only slightly in 50 years.
But there are black high school seniors receiving acceptance letters to multiple Ivy League colleges every year. Many are following in the footsteps of people like President Barack Obama, who attended Columbia and Harvard universities.
...they live in nice apartments. And they are still buying homes.
For generations, government officials and realtors colluded to establish black communities and neighborhoods away from predominantly white communities. It was known as redlining. Such practices evolved to predatory subprime mortgage lending, which had the effect of decimating black wealth during the recent housing and foreclosure crisis, when the black-white wealth gap grew wider.
White households had an accumulated wealth that was 13 times the median amount for black households in 2013, according to the Pew Research Center. That breaks down to $141,900 median wealth for whites and $11,000 median wealth for blacks.
The aforementioned examples of racial inequality need more solutions, not reactions of surprise when individual black people overcome them. And it'll take a bit more than some luck for us to get there.
Read more: