Jesse Williams Spoke the Truth About Being Black in America, Now He May Lose His Job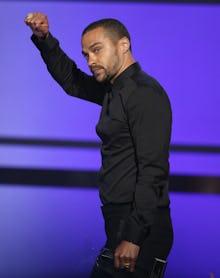 The petition was started by a user named Erin Smith, who condemned Williams's "negative attitude." Smith also called Williams's words "hate speech against law enforcement and white people," and wrapped up with the controversial hashtag #AllLivesMatter.
The petition has just over 1,000 signatures, and will reportedly be given to ABC when and if it reaches 1,500.
Williams gave his speech on June 26 after accepting the 2016 BET Humanitarian Award. In it, he gave a searing indictment of racism in America. Here's an excerpt:
Yesterday would have been young Tamir Rice's 14th birthday. So I don't want to hear any more about how far we've come when paid public servants can pull a drive-by on a 12-year-old playing alone in a park in broad daylight, killing him on television and going home to make a sandwich. 
Watch the full speech on BET. 
One of those petitions with over 11,000 signatures, also on Change.org, states its case plainly: "Don't let the racists win!" it's headline reads. "Grey's Anatomy, don't fire Jesse Williams."
ABC hasn't officially responded to the brewing controversy as of yet. But Grey's Anatomy creator Shonda Rhimes appears to be on his side. The day after the award's show, Rhimes tweeted in support of Williams:
Bye, haters.
Update July 5 1t 9:03am EST: Shonda Rhimes has spoken:
Read more: