Vic Mensa Calls Out the Racist Irony of Justin Timberlake's Music on 'The Nightly Show'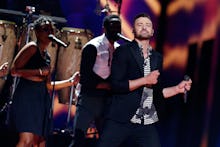 Chicago rapper Vic Mensa is Justin Timberlake's biggest problem these days.
During an appearance on Larry Wilmore's The Nightly Show, Mensa called out Timberlake over his misguided, #AllLivesMatter-esque response to Jesse Williams's BET Awards speech.
Timberlake later apologized, tweeting, "I feel misunderstood."
Timberlake has long been accused of profiting off of his widely accessible interpretation of music black soul culture, while ignoring the circumstances that give birth to that music, or giving credit where it's due. Now, Mensa is taking him to task. 
"Justin Timberlake is definitely benefiting from using black culture for his sound, his dance moves ... and blowing up off of it," Mensa said, nailing why Timberlake continues to be such a controversial figure in music. 
"But if you roll down Justin Timberlake's Twitter for the past two years, which I just did, you see nothing that supports black people when it's more difficult."
The criticism is very similar to the accusations of cultural appropriation that Azealia Banks leveled at Iggy Azalea following the success of Azalea's "Fancy" in December 2014. "Its funny to see people Like Igloo Australia silent when these things happen," Banks tweeted following the Eric Garner Decision, "Black Culture is cool, but black issues sure aren't huh?"
Mensa summed up this self-same issue perfectly, but it's clear the conversation is far from over.
Watch Mensa's full Nightly Show appearance here.
Read more: