Hillary Clinton Just Clapped Back at Donald Trump for His Anti-Semitic Star of David Tweet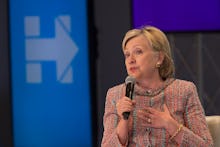 Hillary Clinton slammed Donald Trump on Monday for tweeting an anti-Semitic meme over the weekend, writing that it's part of a "pattern that should give voters major cause for concern."
The meme, whose origins were first reported Saturday by Mic's Anthony Smith on Saturday, featured an image of Clinton next to what appears to be a Jewish religious symbol Star of David, overlaid with the message "Most Corrupt Politician Ever!"
Earlier Monday, Trump denied the image was anti-Semitic, insisting the since-amended shape was a sheriff's star:
Similarly, Trump's former campaign manager, Corey Lewandowski, made the same case on CNN, where he now works as a political commentator after being fired. 
"To read into something that isn't there is... I think that's the mainstream media trying to attack Donald Trump for something that really isn't there," Lewandowski said. 
However, Lewandowski doesn't acknowledge that this is part of a larger trend.
Such as when Trump retweeted baseless statistics regarding black-on-black crime, originally posted to Twitter by a neo-Nazi. Or when he retweeted a Benito Mussolini quote with Trump retorting that he wanted "to be associated with interesting quotes."
It all only confirms that Trump's biggest enemy so far in this campaign is himself. 
Read more: