The #EverySizeIsBeautiful Backlash Proves the Body Positivity Movement Has a Ways to Go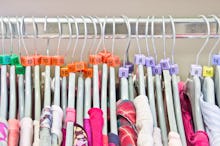 With plus-size models on magazine covers and diverse ad campaigns springing up now more than ever, the fashion industry seems to be embracing the body positivity movement. Twitter, on the other hand? Not so much. 
The hashtag #EverySizeIsBeautiful (which has been around for a while, but spikes in usage from time to time), began trending Monday night, with over 13,000 tweets posted since then.
While the hashtag was intended to spark some positivity, many are using it for other purposes.
Some are posting memes:
While others are using the hashtag to fat shame:
A few are bringing out their best dick jokes. 
A large majority are using it as a platform to discuss what they believe to be healthy or not. In other words, some people are very concerned with stranger's weight and think all those that are bigger must be obese, unhealthy and a burden to society. 
Back in May, another body-positive hashtag, #ShareYourSize, created by People magazine, went askew when many called out the backwards thinking of asking women to show they're more than a number by holding up a number next to their bodies. Similarly to #EverySizeIsBeautiful, many used the campaign for other purposes, such as to make dick jokes or announce their shoe size.
But, as seen with Tess Holliday's #EffYourBodyStandards, Iskra Lawrence's #everyBODYisbeauty and Refinery29's #TakeBackTheBeach hashtags, among the hundreds who are using #EverySizeIsBeautiful the way it was intended, it is possible to launch and spread positivity on social media platforms.
At the very least, people chiming in and using these campaigns can dilute and minimize these pesky internet's trolls. 
So, take note haters:
Read more: