Azealia Banks Defends Skin Bleaching and Her Fans Are Not Having It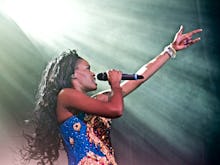 Azealia Banks wants her fans to see the light.
The singer, rapper and provocateur took to Facebook Live recently for an off-the-cuff, 21-minute conversation while visiting San Francisco. The most interesting chunk of it is a 7-minute stretch where the New York native defends her use of skin bleaching creams.
"What's the difference between getting a nose job and changing your skin color?" Azealia Banks asked, referring to the process as a "body modification" no different than wearing a weave.
Banks is no stranger to controversy. Already in 2016, she's been suspended from Twitter for calling pop star Zayn Malik a "curry scented bitch." She's also been repeatedly criticized for using the word "faggot," gotten into a beef with 14-year-old Disney star Skai Jackson, and taken Beyoncé to task for what she called the "heartbroken black female" narrative of Lemonade. 
But while those antics have outraged fans, her honest discussions about bleaching her skin have broken fans' hearts. Some were outraged:
Others felt sorry for her because she's obviously internalized the United States' racism:
It's not the first time Banks has spoken about lightening her skin. Earlier in 2016, she posted a message to Instagram about her plans to write an article about the "differences between skin bleaching and skin lightening."
And in a tweet that's since been deleted, Banks hinted at the music industry pressures that made her start lightening her skin:
Congratulations, American racism. You win. 
Read more: