Kim Kardashian West Addresses Photoshop Accusations in Fergie's New "M.I.L.F. $" Video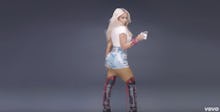 To celebrate her return to music, Fergie enlisted the MILF-iest of the MILFS for her latest video, appropriately titled "M.I.L.F. $." 
Kim Kardashian West, the world's most followed MILF, joined fellow celebri-MILFs including Chrissy Teigen and Ciara, as well as a gaggle of supermodels.
But it was Ms. Kardashian West, unsurprisingly, that had folks talking. Pushing aside all of the "Got MILF?" references and white liquid being thrown around, some began accusing Kardashian West of having her body digitally altered within the pro-dairy video. 
Kardashian West, no stranger to clapping back at naysayers, responded on Snapchat with stills from the video shoot and captions, "FuckYoPhotoShop #CorsetLife."
The assumption that the video would be digitally edited is not entirely unfounded. After all, Kardashian West's own sister Khloé admits to the use of photo-altering apps. The Kardashian sisters have been known to advertise weight shapers, also known as modern-day corsets. But, the use of one would require no post-production alteration to the video.
The corset explainer Snap came not too long after she had written a post on her website defending the size of her butt. 
"I don't wear butt pads," she wrote after being accused of doing so (the nerve!). "At this point, I think everyone has seen my butt naked and knows I don't need them, LOL!" 
Exhibits A and B: 
Instead, Kardashian West proudly admits to the use of body shapers, some of which have cutouts that apparently don't photograph well. 
All butts aside, was Kardashian West's waist shrunk in the "M.I.L.F. $" video? Apparently not. Does she use butt pads to make her tush look bigger? No, she uses body shapers. Either way, it isn't necessarily how she looks IRL. 
You might not need a corset to have your MILFshake bring all the boys to the yard, but if you want one to channel your inner Kardashian West, breathe in and take caution. 
Read more: