Gospel Artist Lecrae Gets Real About Slaves and July 4th in One Tweet — White Fans Hate It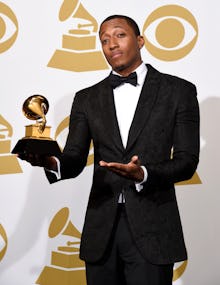 Grammy-winning gospel hip-hop artist Lecrae threw all caution to the wind Monday, by getting real political about slavery and the Fourth of July.
He tweeted an undated picture depicting black people in a field picking cotton, with the words "My family on July 4th 1776." The post quickly went viral and had more than 14,000 retweets and over 20,000 likes on Tuesday afternoon. 
The tweet drew reactions that ranged from outright racist to vulgar. The rapper even replied to some of the racist tweets.
There were many Twitter users who also expressed support for Lecrae's sentiments.
It's rare to see black gospel and contemporary Christian musicians speak out in this way. 
They are the very public representatives of a religion that emphasizes love, forgiveness and transcendence of hardships through faith. Few artists, however, address the idea that Christianity is the religion slaveowners imposed on their slaves.
But Lecrae isn't wrong — slaves had to wait nearly another nine decades after the first Independence Day to be granted their "independence."
Read more: