The Way Guests Responded to This Woman's Dress Is Everything Wrong With Weddings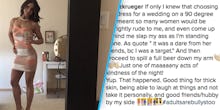 Weddings are no longer a day for brides and grooms. Instead they're an opportunity for guests to one-up one another with elegant gowns, spank stranger's rear ends and spill drinks on one another for no reason.
Liz Krueger, a nutrition and fitness coach based in Minneapolis, experienced the effects of the "social media-age wedding" firsthand when she was violated — in person and behind a screen — all because of the bandage dress she wore to a friend's wedding.
"If only I knew that choosing this dress for a wedding on a 90-degree day meant so many women would be outrightly rude to me, and even come up behind me slap my ass as I'm standing alone," Krueger wrote in an Instagram post. 
If that weren't awful enough, she had a full beer poured down her arm by another guest. "Good thing for thick skin, being able to laugh at things and not take it personally, and good friends/hubby by my side," she wrote. "Regardless, we had one heck of a fun night and no 'grown' women's comments/glares could bring me down as a wedding guest."
There were many supportive comments ranging from "Love the dress. Way to turn a negative into a positive. Onward and upward," to "You looked amazing and those other haters, let them hate, it's obvious they were jealous." 
However, it's the range of negative comments flooding this image, as well as her other photos, that highlight a much more insidious trend: people willfully taking to social media to tear one another apart rather than uplifting and acting as a support system.
"You could wear a skin tight dress to literally a MILLION other different events, but decided to wear this to a wedding? You deserved that treatment, the wedding isn't about you and your grossly over-toned body," one wrote. "Had to steal the attention away from the bride and groom, did you? Looking for external affirmation and upstaging your host," another wrote.
Yet another: "Called me old fashioned, but unless the wedding was at a strip club, this dress is inappropriate." 
"I never thought my post about my dress would spread across social media, but at this point I hope it helps someone in some way," Krueger later wrote in a Facebook post. "My intent was not to take away a bride's spotlight, or ruin a special day. My intent was to accompany my friend to a wedding and have a fun girls night. There was no agenda putting this dress on. It's sucks the focus has been on the dress in every single comment." 
"My intent was not to take away a brides spotlight, or ruin a special day. My intent was to accompany my friend to a wedding and have a fun girls night."
Krueger has since started the hashtag #KruegerKindness, hoping to inspire women to do good things for one another. "We live in a world that needs more women willing to put themselves out there for a good cause," she wrote on Instagram. 
Maybe this viral post will prompt others to narrow the focus of weddings back onto the bride and groom. As Krueger wrote, "Be nice to each other. It's what we learn as little kids. Why can't we do it as adults?" 
Read more: