Jockey Celebrates Individuality by Casting Double-Amputee Chris Van Etten For New Campaign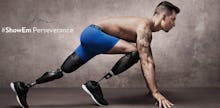 Chris Van Etten might not be the model you're used to seeing on billboards or in the pages of GQ. Sure, he's got the chiseled abs and biceps, but unlike your prototypical cover boy, Van Etten wears prosthetics in place of his legs, both of which he lost during an explosion while fighting in Afghanistan in 2012. 
To try and stop himself from experiencing post traumatic stress disorder, the 25-year-old began working out which eventually landed him in front of the camera. "I wanted to find a way to show the image of strength," he explained to People magazine.
And his new underwear campaign for Jockey, Show 'Em What's Underneath, is doing just that. 
Van Etten, who also spends his time riding his motorcycle, playing wheelchair lacrosse and mono-skiing, was one of three "everyday heroes" that Jockey chose for this campaign to "celebrate the spirit of individual" and to "encourage all people to be comfortable with themselves." 
"The one thing I want everyone to know is that you don't have to be famous or extremely gifted to change the world," he told Today. "I was an ordinary person and through determination I was able to make the best of it. It's amazing what people are capable of."
These ads come at a time when the fashion industry is inching toward greater diversity — at least when it comes to race, gender and body types of size. 
Spring fashion campaigns, for instance, were the most racially diverse on record as 21.8% of models cast were of color. And last year's New York Fashion Week: Men's also included men of an assortment of different skin tones. As of late, major magazines from Sports Illustrated to Maxim have featured plus-size women, while various models have launched campaigns and clothing brands working toward great inclusivity for women of size. In addition to this, transgender women, like Caitlyn Jenner and Hari Nef, have landed major publication's covers. 
Those with amputations or disabilities, on the other hand, aren't as visible in the industry. 
"I was an ordinary person and through determination I was able to make the best of it. It's amazing what people are capable of."
But, there are definitely a few models looking to change this. Rebekah Marine, who was born without a right forearm, is a model who has previously made headlines for walking in NYFW for FTL Moda and posing for People magazine with fellow amputee and veteran Brian Taylor Urruela. "I think it's so cool to be at the front of the line of this change, and being able to open the door and inspire others to open their minds to different models," she told Time back in September.
And they're not the only ones. Gianna Schiavone walked alongside Marine during February's NYFW show. Another model, Lauren Wasser, who had her lower leg amputated after contracting toxic shock syndrome, also walked in February, but for clothing brand Chromat. 
By increasing visibility and making their voices heard loud and clear, these models with amputations are showing others, especially young people, what is possible despite any and all differences. As Van Etten said to Today: "I can make something good out of the situation I've been put in. It's humbling and empowering all at the same time."
Read more: