If You Think Magazine Covers Aren't Diverse Enough Now, Just Look at How Far We've Come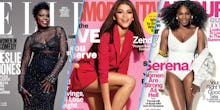 Last week, the internet let out a collective cheer when Teen Vogue revealed its dual August covers featuring Gabby Douglas and Simone Biles. But this wasn't an isolated occurrence. Teen Vogue has been setting the example of what a diverse publication could look like. Within the last six months alone, by featuring Asian supermodel Fernanda Ly, Amandla Stenberg, Willow Smith and Zoë Kravitz, it has has more covers with people of color than it's had without. 
But it's impossible to say the same for its more mature counterpart, Vogue, and an assortment of other high fashion magazines that have been around longer than Teen Vogue, which went into print in 2003. In 2015, 19.8 percent of people featured on 137 magazine covers were of color according to Fashionista. Within the first six months of 2016, 34 people on 86 covers were nonwhite women, according to Jezebel. And in July, there were five celebrities of color on the cover of major magazines ranging from Cosmopolitan to Glamour. 
These numbers may seem minimal when compared to the amount of white women lining new stands. However, in the past 40 years, the magazine industry has significantly improved from the whitewashed reality it once was. 
Mic decided to dig out and analyze popular fashion publications' July issue covers every five years from 1976 to the present, or as far as the internet would let us go back. See the startling results below. 
Vogue July 1976 - July 2016
Not one of these July issues of Vogue has featured a person of color. Out of the past five years' 54 issues, there has been 11 people of color total. 
It's important to note, however, that a few of these women had to share the cover with other white women. For example, in June 2012, Serena Williams was on the cover with Ryan Lochte and Hope Solo. In September 2014, Joan Smalls and Fei Fei Sun shared their cover with models like Cara Delevingne and Karlie Kloss. 
Cosmopolitan July 1976 - July 2016
Unlike Vogue, the past two July issues of Cosmopolitan seen above, 2016 and 2011, have featured women of color. 
Out of the past five years' 55 issues, there have been 11 people of color total featured, with three in 2016 alone. 
Harper's Bazaar July 1976 - July 2016
Naomi Campbell is the only women of color out of the 9. Out of the past five years' 53 issues, only five were non-white. 
2016 reflects this, as of the August issue, there has not been one person of color on a cover of Bazaar. 
Glamour July 1991 - July 2016
Glamour had two women of color on the July issues above. Out of the past 57 covers, there have been ten. 
Marie Claire July 2001 - July 2016
Out of the most recent 67 covers, Marie Claire has featured 13 women of color.
So far this year, two of these women had to share their issues with other white women. Gugu Mbatha-Raw and Zendaya were this year's Fresh Faces, along with Kylie Jenner, Ellie Goulding and Hailey Baldwin. 
In 2015, it was Zoë Kravitz next to Iggy Azalea, Felicity Jones, Hailee Steinfeld, and Kate Upton. The year before, it was Lupita Nyong'o along with Elizabeth Olsen, Emilia Clarke, Kate Mara and Elle Fanning. 
Seventeen July 1976 - July 2016
Not one of these July issues of Seventeen featured someone of color. Out of its past 51 covers released over five years, there have been 18 people of color. 
But, besides Fifth Harmony, and Michelle Obama sharing a dual cover with Meghan Trainor, 2016 is turning out to be fairly white. 
W Magazine July 2001 - July 2016
Out of 82 issues spanning over the past five years, there have been 12 people of color.  
In 2016 alone, there have been four on covers of W, although Zendaya did share one of these with Willow Smith and Kiernan Shipka. 
Elle July 1986 - July 2016
Above there are two women of color, but out of 82 issues over the past five years, there have been 19. Only 10 were standalone covers. 
Like many of the other magazines on this list, Elle likes to mix its women of color with other white people. Take February's 2016 Women in TV issue in which Priyanka Chopra, Viola Davis and Taraji P. Henson appeared alongside Julia Louis-Dreyfus and Olivia Wilde. 
In 2015, for its similar Women in Hollywood issue, Ava Duvernay and Salma Hayek scored a cover, as did Carey Mulligan, Amy Schumer, Gena Rowlands, Kate Winslet, Alicia Vikander and Dakota Johnson. 
Diversity isn't limited to skin tone. So, where do magazines stand when it comes to say, body type? As Fusion has reported, when curvy celebrities are on covers, many publications feel the need to (whether intentionally or not) hide the woman's body or use editing tools. But, as seen in the above pictures, throughout the '70s and '80s there was one type of (thin) body-type that flooded covers and the fashion industry. 
At least now, there are more body positive celebrities like Melissa McCarthy or Lena Dunham on covers, in addition to plus-size models landing ground-breaking covers like Ashley Graham on Cosmopolitan, Sports Illustrated, Maxim, Glamour and People StyleWatch. 
The fashion industry also seems to be embracing those that aren't cisgender, but magazines have yet to catch up. Caitlyn Jenner has been on the covers of Vanity Fair and Sports Illustrated, but where are the other influencers? Hari Nef just landed an ELLE UK cover next to Amandla Stenberg, who recently came out as bisexual and nonbinary, and a Spring 2015 cover of Wonderland, but both publications are international. 
Why are magazines failing the diversity test? As seen with all of Elle's pop culture covers, magazines often reflect society and the rest of the media industry, whether a celebrity is releasing a new movie (Blake Lively on the cover of Marie Claire or the cast of Ghostbusters on Elle) or simply just the popular at the moment (think Kendall Jenner or Taylor Swift). In other words, if there is a lack of, say, Asian, Black or Indian actors and actresses, its likely you won't be seeing people of these races and ethnicities on your dining room table. 
This is not to say that magazines cannot be the tastemakers. Covers are often based on who would sell. Would people rather purchase a cover with their favorite actress or a lesser known, but awe-inspiring model? We wouldn't know because this isn't what magazines are experimenting with. 
One day, the world might not cheer when a woman of color with an afro is on the cover of Teen Vogue or a plus-size model is on Sports Illustrated. But, for now, they are being recognized for smashing societal norms. 
Read more: