Kylie Jenner's Lip Kits Slammed by the Better Business Bureau in the Most Direct Way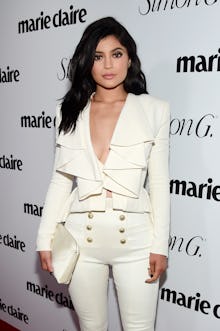 Kylie Jenner has been having some relationship issues. No, we aren't talking about her on and off again love affair with Tyga. Instead, the 18-year-old has some 'splaining to do surrounding her cosmetic company Kylie Cosmetics' rocky standing with the Better Business Bureau. 
Back in May, the organization issued a product alert explaining that many customers had received empty, Lip Kit-less boxes. On Tuesday, TMZ reported that the company was given an "F" consumer satisfaction rating by the BBB. 
The BBB stated that it contacted Kylie Cosmetics in May, and that the company responded by saying that the packages were often stolen because of its recognizable boxes, but that it was "taking steps to change their packaging." 
As of June 23, 2016, there were still complaints, which likely earned the company the big "F." However, on Wednesday morning, the "F" rating did not appear on the BBB site. 
"BBB has a policy wherein a company cannot be rated if it has been in business for less than a year UNLESS their rating falls below a C," Rick Copelan,the President/CEO of the BBB serving Ventura, Santa Barbara and San Luis Obispo Countries, said in an interview.
Copelan explained how Kylie Cosmetics had reached out when they saw the TMZ article, asking how they could increase its rating. "We reminded them that we had sent several requests for basic company information, including information regarding their volume of business but they had not responded," he said. "The company provided us with verified information that indicated their volume of business was much higher than what we believed it to be and we entered the new data into the algorithm that produces the rating, it rose from F to C."
Despite the upgrade, the website still has 134 complaints ranging from delivery issues and missing products to credit and billing mistakes. 
As seen by the below tweets posted on Wednesday, many have also taken to Twitter to voice their own personal issues in addition to all of the ones reported to the BBB. 
In its first 10 months, Jenner's beauty brand has received a hefty amount of negative press. Back in April, it was reported that workers at Spatz Laboratories, which produces the Kylie Lip Kit, were complaining about the location's dirty and unsafe work environment. 
In addition to this, makeup artist Jeffree Star tweeted his disappointment with the product's crappy lip gloss wands, leading the 18-year-old to redo the brush and send out new versions to all that had purchased one.
A month later, beauty vlogger Stephanie Nicole found that the Lip Kits contained almost the exact same ingredients as its cheaper sister brand ColourPop's version. Why does this matter exactly? Including shipping, a ColourPop liquid lipstick is $16.82 while Jenner's version is $40.13. 
With the reported "F" rating, in addition to all of the recent controversies and product issues, maybe a quick trip to Sephora would be a better move, even if she plans to make her kits more accessible to customers. 
You might not want to dish out $1,200 though, like Jenner did. 
Read more: