Names of Police Officers in Alton Sterling Shooting Released; DOJ to Handle Investigation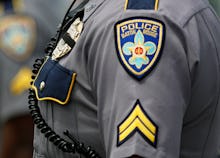 Louisiana Gov. John Bel Edwards said Wednesday he was disturbed by video of the fatal shooting of Alton Sterling by Baton Rouge officers at a local supermarket and had offered his condolences to his family. 
A law enforcement investigation has been turned over to the U.S. Department of Justice, which will lead a civil rights probe into the shooting, Edwards said during a press conference. Shortly after the governor's announcement, Baton Rouge police officials named the officers involved in the shooting as Blane Salamoni and Howie Lake II, according to a tweet from WBRZ reporter Michael Vinsanau.
"Based on the information that I have — and certainly the footage that I've watched — I have very serious concerns," Edwards said. "The video is disturbing to say the least."
Sterling, a 37-year-old black resident of Baton Rouge, died Tuesday after an encounter with two police officers outside of a Triple S Food Mart in East Baton Rouge Parish. Sterling died after one of two officers shot him multiple times during a confrontation.
Edwards told reporters he was not able to release the involved officers' names. But he said the officers' races were virtually clear from video footage of the shooting.
(Editor's note: This video contains graphic footage. View with discretion.)
The shooting death sparked protests locally and drew attention from activists in the national Black Lives Matter movement. Family and supporters of Sterling have planned a 6 p.m. vigil outside of the North Foster Drive supermarket where he was killed, according to WBRZ.
"I want to urge people to be calm," Edwards said. "I'm calling for unity in this difficult time. I know that that may be tough for some, but it's important that we do that. We will certainly get through this tragedy."
The governor did not provide a detailed timeline of events and deferred questions about the officers to the Baton Rouge Police Department. Baton Rouge police declined Mic's request for comment Wednesday, ahead of Edwards' press conference.
Abdul Muflahi, a witness to the shooting who owns the supermarket, told WAFB that one of the officers used a stun gun on Sterling, and the other tackled him. While Sterling was on the ground, the first officer who had used the stun gun drew his handgun and fired, according to Muflahi, WAFB reported.
Police later removed a gun from Sterling's pocket, Muflahi told WAFB. Attempts to reach Muflahi's store for comment were unsuccessful Wednesday morning.
July 6, 2016, 12:48 p.m. Eastern: This story has been updated.
Correction: July 6, 2016