Legendary Model Pat Cleveland Reflects on 6 Decades in the Modeling Industry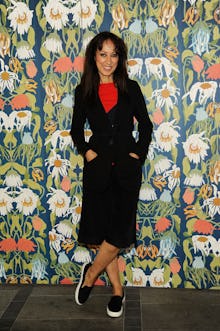 Before the Kendall Jenners and Gigi Hadids were even born, Pat Cleveland was fighting to make a name for herself in the modeling industry during the Civil Rights Movement in the 1960s. 
Cleveland, who went on to be dubbed "the first black supermodel" and "the Josephine Baker of the international runways" by former Vogue editor Andre Leon Talley, was discovered by a fashion editor on a Manhattan subway when she was just 15 years old. 
After signing with Ford Models, Cleveland was strutting down the runways for brands like Valentino and Yves Saint Laurent, posing for renown photographers Steven Meisel and Irving Penn and appearing on the pages of Vogue and Vanity Fair. 
But her journey was certainly not easy, as she was navigating a society that often left out those of color. Mic invited the legendary supermodel into our office to discuss this very experience and the current status of the exclusive industry. 
"There was always the racial divide and ignorance about people of color," she said during a Facebook Live interview. "Because POC were such great strong people that could build a nation but were still considered not educated because of slavery... Being a person of color wasn't an asset."
After hearing "I don't know where to put her" from one too many American magazines, Cleveland moved to Paris in 1971. She stated that she wouldn't come back to the United States until a women of color was on the cover of Vogue, which happened in 1974 with Beverly Johnson. 
But, this doesn't mean that models today, like Jourdan Dunn and Chanel Iman, aren't experiencing similar issues to those that Cleveland and Johnson did. Of the 120 runways shows of the most recent New York Fashion Week, 68.1% of models walking were white. 
 "You can't lose your courage along the way because as much courage as you have if there's not someone who's receptive to it, it seems to go by the wayside."
"You know, we're like a seed," Cleveland said. "Sometimes we fall on barren grounds. You know you have to keep it up. You have to be brave and keep going. You can't lose your courage along the way because as much courage as you have, if there's not someone who's receptive to it, it seems to go by the wayside. You have to be nomad, meaning, don't get mad, just keep traveling till you find the right lover." 
While the fashion and modeling industry was once about glamour parties and artistic muses, today, as Cleveland says, it's all about numbers. In other words, money.
"It's all about internet and numbers and expanding that," she said. "It's more like a business than a romance between the artists. It was about the artists connecting and having a feeling for each other. Now it's about how many numbers do you have... [The spirit] gets sucked out of it."
She continued: "You can't be your own stylist ... you have to have a whole company of people around you in order to survive. In those days you did your own styling, your own makeup, your own hair, you dressed up for yourself, you went out, you met people who might be interested in working for you."
Although the modeling industry isn't completely inclusive today, with the increased exposure of transgender and plus size models on the covers of magazines and people with amputations or Down syndrome starring in ad campaigns, it is certainly more diverse than it was when Cleveland first began her career. 
"A model can look like anyone." The secret sauce, according to Cleveland: "The right stylists."
Watch the full interview below:
Read more: